Bihari Fish Curry (& Simple Machine!)
Happy New Year to everyone here at SIR Nation! I have long been into a dormant no-cooking zone since past few months, decided to make a come back with a Bihari Fish Curry recipe! I would also like to share about a simple tool
That made the fish frying process a lotttt easier!! Yup, you guessed it right it's a pair of tongs!( If I ever told my mom that we use tongs for fish flipping instead of rotis, she would gladly dismiss this idea with a wave of her hand!! ) but tongs are great! They ensure the fish remains intact and get beautifully fried on all sides even with min. oil! The success of this recipe will depend on the following:
1) Fresh Fish: I use SeaBeams and White Bass- ask in your local Chinese store when the fresh fish arrive and be there to grab your catch. Lift and look inside the gills, a red-Ish gills means fresh fish! Poke on the belly a fresh fish will bounce back!
2)yellow mustard seed: 1 teaspoon per pound- no more no less!
3) mustard oil: this is an acquired taste! You either love mustard oil or you don't! While the eastern India will eat anything made in mustard oil, rest may find it a bit overwhelming!
4) water: mustard seed turn crazy bitter in non- filtered, high chlorine water! Caution plz!
5) tongs!!!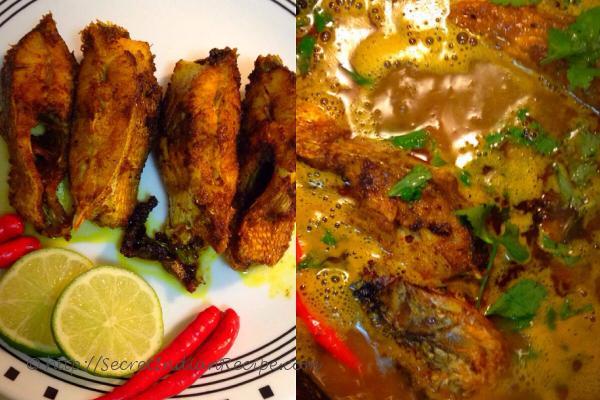 Ingredients:
Fish- White Bass- 3 lbs- washed cut into 2-3inches
Marinade: 3 tsp turmeric,3tsp Red chilli Pwdr, 2tsp Mustard Oil, 3 tsp GingerGarlicGreenChilli paste,pinch of salt
For frying: wok/ kadahi/non stick shallow pan; 1.5cups of mustard oil
For gravy: paste of 1 onion+ 3 tsp yellow mustard seed+2tsp corriander seeds+green chilli; paste of ginger garlic 2 tsp
Masala for gravy: turmeric,red chilli pwdr,corriander pwdr,black pepper pwdr all 1/2 tsp
1 bay leaf,2dry red chilli, and whole 5 Thai Red Chilli( it looks good!),2 tomato cut in big quarters
Corriander leaves and lemon wedge, salt as per taste
Directions:
Marinade the cut-washed fish with turmeric, red chilli, tsp oil, ginger garlic and ' green chilli ''paste In a wok add sufficient oil for deep frying,heat on med-high Add the fish in wok without overcrowding the place. Keep flipping using tongs for even all side cooking. Be gentle else the fish might break. Take out in a plate/paper towel.
In the same wok add the bay leaf,red dry chilli,(onion+mustard+corriander seed)paste along with( Ginger Garlic+ green chilli)paste and salt to taste fry on med low heat till you see the oil separating Add the tomato chunks Add masala ( turmeric, red chili, corriander pwdr,black pepper) and add corriander leaves,Fry some more! Add FILTERED water and bring the gravy to a boil, add the fish and boil once and switch off the stove. Serve with hot steamed rice n lemon wedges!
Footnotes:
1) Always make your own ginger garlic paste it's way better tasting than the Jar version! 1.a) pre soak the mustard and coriander seeds in filtered water and then grind.makes it easier. 2) cook all the masala making sure it never burns, a pungent mustard seed never goes well with burned masala! 3) while frying fish make min possible flips as they break if move too much. 4) you can take out from the frying oil if you think it will be too much for the gravy- I have a planet fitness subscription so..!!
Other Indian Recipes that you may Like !