Bihari Kebab ( Tender North Indian Kebabs)
Bihar Kebab is originally made with mutton or beef, but I have used chicken to cook Bihari Kebabs. These kebabs originate from the state of Bihar, in India, therefore, the name Bihari Kebabs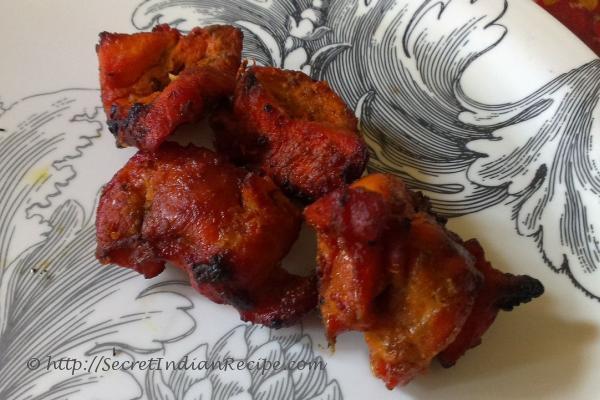 Ingredients:
Boneless Chicken pieces - 200 grams
Curd - 2-3 tablespoon
Red chilli powder - 1/2 tablespoon
Ginger - garlic paste - 2 tablespoon
Salt - 1/2 tablespoon
Mustard Oil - 3-4 tablespoon
Poppy seed paste - 1 Tablespoon
Onion Paste- 1 Table Spoon
Shahi Garam Masala Powder- 1 tablespoon
Raw Papaya paste (Optional) - 1/2 Tablespoon
Directions:
In bowl take all ingredients except chicken. Mix well. Add in the chicken pieces and let the meat marinate for 2 to 3 hours
To cook on Stove: Heat oil in a non stick frying pan and add the marinated pieces slowly. Preferably 4-5 pieces at a time. Just before removing from the pan brush some butter on top
Cook on low heat till the chicken turns tender on all sides
Follow the procedures for more kebabs.
To Cook in Oven: Preheat over at 200 degree C for 5 minutes. Use skewers, place 3 to 4 pcs of chicken in one skewer.
Place the chicken pcs on a drip tray at 200 degree Celsius for 20-25 minutes or till tender. Bast with butter once
Time in oven may vary depending on the size of the pieces.
Serve Hot with raita and mind chutney
Footnotes:
You can sprinkle some rock salt or chaat masala to enhance the taste.
Other Indian Recipes that you may Like !