Biri Vada ( Urad Dal Vada)
This is a traditional South Indian dish which can be served as a side dish or evening snack. The litmus test for good vadas is that it should be crispy outside but soft inside. It is most popular street food in Odisha. I always watched my mom making vadas and I wondered how she is makes it with a hole in center. After much practice I learnt to make the perfect vada with a hole. It is quite tasty and delicious.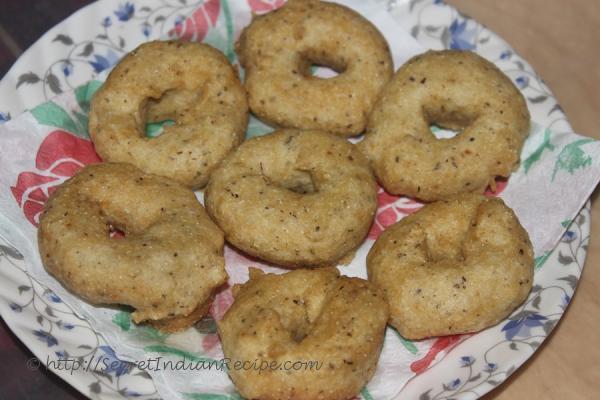 Ingredients:
Urad dal 1 cup
Ginger 1 teaspoon (finely chopped)
Mango ginger 1 teaspoon (finely chopped)
Baking powder 1 pinch
Salt to taste
Green chillies 2-3 pieces (chopped)
Semolina (sooji) 2tablespoon
Rice bran oil for frying
Directions:
Wash and soak urad dal in water for 3-4 hours.
Drain the water and grind urad dal using very little water just enough to grind to a smooth and soft dough-like paste and not watery
Take out the batter in a large bowl, add chopped ginger, chopped mango ginger, chopped green chili, baking soda, semolina and salt.
Mix the batter for 2-3 minutes which will make the batter light and fluffy.
To make sure the batter is ready put one drop of batter in a bowl of water, if the batter floats it's ready to use
Heat oil in a pan, wet the palm and take a portion of batter and place over your palm.
Flatten to round shape and make a hole in the centre with your thumb.
Now upturn your palm and drop the vada into oil.
Fry the vadas from both sides to golden brown. Repeat with the remaining batter to make vadas.
Take them out on absorbent paper to drain access oil.
The Vadas are ready to be served with chutney, sambar, sauce.
Footnotes:
If the batter is too soft then it will not hold the shape, then keep the batter for 30 minutes in refrigerator.
If the batter is too thick then it will hold the shape but will be hard from inside after frying.