Bisi Belebath (hot Lentil Rice)
Bisi bele bath is a Kannadiga comfort food made with rice, lentils and veggies. It is a one pot meal, yet it involves a long procedure to make it. If you make your bisi bele bath the procedure becomes even longer. I used store bought bisi bele bath powder for this post and I used the MTR brand which is the best. Bisi means hot and bath is rice in Kannada. This rice is very close to sambar rice in texture and tamarind rice in flavours but it still has a tinge of cinnamon that makes it different. It is mostly had with kara boondi a spicy fritter and a handful of peanuts.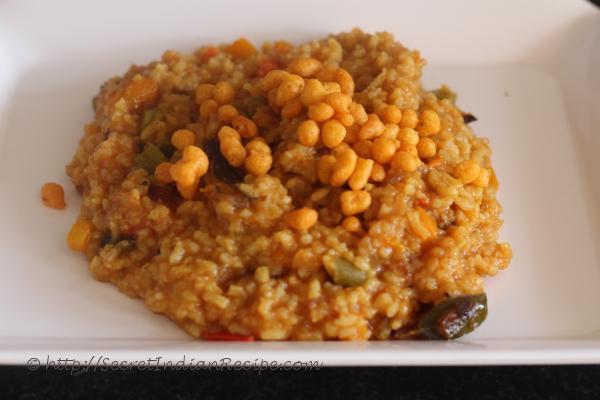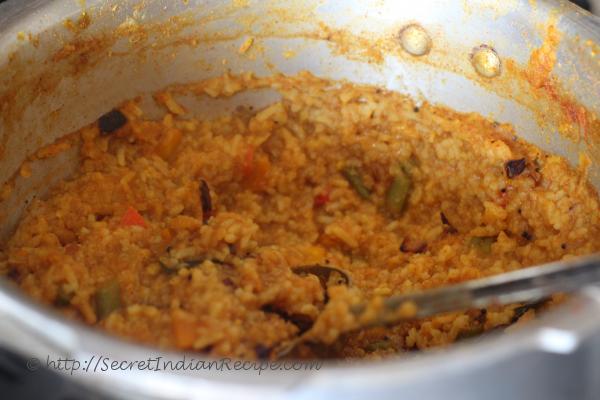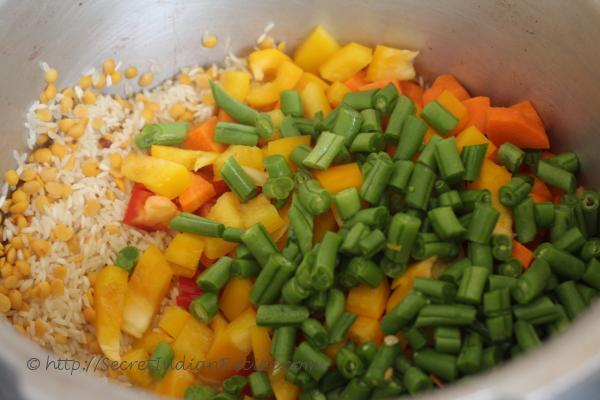 Ingredients:
Rice- 1 cup
Split Pigeon lentils- 1/2 cup
Carrots-2
French beans- 10
Bell peppers- 2
Tamarind extract- 1 tbsp
Bisibelebath powder- 1 and 1/2 tbsp
Chili powder- 1/2 tsp
Salt- to taste
Dry chilies- 2
Mustard seeds- 1 tsp
Cumin seeds- 1 tsp
Curry leaves- 6-8 leaves
Clarified butter- 2 tsp
Water- 1 and 1/2 cup
Spicy fritters- a handful
Onion- 2
Cashewnuts- 5-8
Directions:
Pressure cook the rice and lentils in 2 and 1/2 cup water up to 2 whistles.
Cook the chopped vegetables separately with 1 cup water and a pinch of salt till the vegetables are well cooked.
Now add the vegetables to the cooked rice and lentils and add salt, chili powder and bisi bele bath powder. Pressure cook this rice with 1 and 1/2 cup water up to 2 whistles.
Open the cooker when the pressure settles down, and add the tamarind extract. Let the rice simmer and meanwhile prepared for tempering.
Heat clarified butter in a pan, and fry the cashew nuts first. When the cashew nuts brown, take them out and set aside.
Now add the mustard seeds. When the mustard splutters, add the curry leaves, dry chilies and cumin seeds.
Add the chopped onions to this tempering and saute it till the onions turn brown. Do this on low flame.
Add the tempering to the rice and sprinkle the fired nuts. Toss in the spicy fritters also known as kara boondi.
Serve with some peanuts and kara boondi. Raita on the side will make this meal complete.
Footnotes:
Kara boondi is the spicy version of ladoo boondi.
Adding bell peppers is optional. I did this because I had bell peppers.
Add more water and keep this rice watery because as it cools down it thickens.