Bombay Biryani
Now who can resist a delicious Biryani and that too one that is fuss free and easy to put together? This recipe here is a favorite with my family and I usually make it on weekends or while entertaining.Now if you are wondering what's the big deal about the Biryani making process and what really are the secrets? Fret not as I guide you through a wonderful recipe.Do follow it step by step and I can assure you of a delightful Biryani full of flavor and aroma.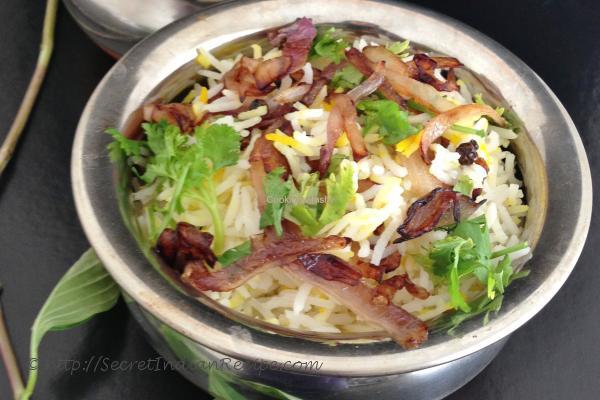 Ingredients:
1 kg Mutton/Chicken (washed and cleaned)
1 kg Basmati Rice
5 medium Tomatoes (chopped finely)
2 tablespoons tomato paste
3 large potatoes (cut into cubes and boiled
4 large Onions (sliced finely)
◾1 1/2 tablespoons ginger-garlic paste
3-4 green chilies (slit lengthwise)
3/4 tablespoon chill powder
2 tablespoons coriander powder
1 1/2 teaspoons cumin seeds
5-7 peppercorns
4 cloves
3 bay leaves
1 cup yogurt
1/2 cup milk
1/2 Oil or ghee
few strands saffron
chopped coriander (for garnish)
Directions:
1.Wash and clean the meat well. Add it to a large bowl and mix it with the yogurt,ginger-garlic paste,chili powder and green chilies and let this marinate for at least an hour. 2.Boil the potatoes till cooked.Drain and keep aside. 3.Boil the rice with cloves,cardamom and bay leaves and cook till 3/4 done. 4.Now heat the oil and add in the cumin seeds and let them splutter. 5.Add in the sliced onions and fry till fairly golden brown. 6.Add the coriander powder and mix well. 7.Mix in the chopped tomatoes and let it cook well. 8.Next add in the marinated meat and stir on a high flame so as to fry the meat and seal in the juices. 9.Lower the heat and let the meat cook in its own juices. If it's mutton you may add some water to cook the meat and this will take at least 45 minutes to cook.If cooking chicken do not add any water as it will cook in the tomato juice itself.The chicken should cook in about 25-30 minutes.Do check to ensure it's no longer pink. 10.Once the meat is cooked add the tomato paste and mix well and add salt to taste.Add the boiled tomatoes. 11.Let this cool. 12.Once the meat and the rice has cooled,you may color the rice by soaking some saffron strands in warm milk and sprinkling over the rice.Reserve rest of the warm milk for later. 13.Now take a large oven proof dish and lightly grease the bottom and layer with some rice. 14.Next add a layer of the meat. 15.Do this for a couple of layers. 16.Lastly sprinkle about 1-2 tablespoons of milk and drizzle some oil on the top layer. 17.Garnish with browned onions and chopped coriander. 18.Wrap a double layer of aluminum foil over this dish. 19.Heat the oven to 150 C and let this cook further for about 40 minutes. 20.Serve hot. TIP:You may cook the meat mixture a day before and refrigerate. The next day ensure you bring the meat out to room temperature for about an hour.Make up the rice and then layer it as mentioned above.