Boondi Aur Papad Ki Sabzi (vegetarian Side Dish Made Of Boondi And Gram Flour Wafers)
Boondi and Papad are usually served as complimentary side dishes along with Indian meal. The tradition of serving boondi raita and fried or baked papad with meal is quite usual in northern Indian….but In Rajasthan boondi and papad is added to different curries to make it tastier and spicy. For example boondi is added to normal 'Kadhi' (a side dish made of Gramflour and Curd) to make ' Boondi kadhi'. ….In this recipe I add boondi and papad to normal aloo sabzi to enhance its taste.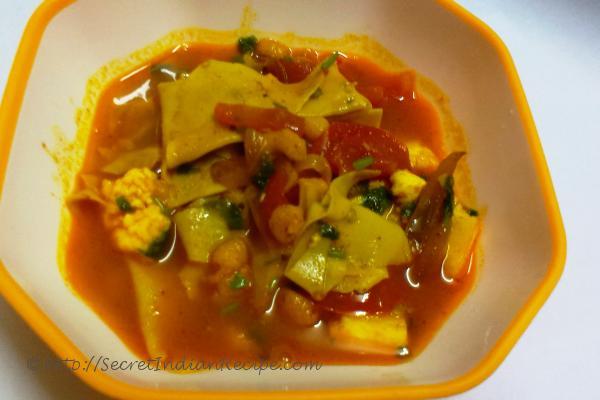 Ingredients:
Boiled potato – 2 pieces
Jeera (Cumin) – ½ teaspoon
Tomato – 1 medium size
Green coriander leaves – 3-4 tablespoon
Papad – 2 papad
Boondi – 2 tablespoon
Red chilli powder –1 teaspoon
Turmeric powder – 1teaspoon
Mustard oil- 2 tablespoon
Salt – As per your taste.
Directions:
Peel the boiled potatoes and cut them into medium pieces. Chop the tomatoes and green coriander leaves and keep aside.
Heat oil in a pan and add jeera. Let it splutter and then add the potatoes.
Saute the potatoes on low heat for few seconds.
Now add chopped tomatoes, red chilli powder and turmeric powder and mix well.
Pour 1 cup of water and mix. Let it simmer on medium heat for 2 mintues.
Break the papad into small pieces and put it in the gravy. Add salt, boondi and green coriander leaves and cook on low heat for 2 mintues.
Boondi papad ki sabzi is ready. Serve it with Chappati.
Footnotes:
You can replace tomato with 2-3 tablespoon of curd.