Boondi Raita / Yougurt With Boondi
Boondi Raita is a very famous raita recipe. Its a quick and yummy side dish for a heavy meal. It'svery popular Indian dish and mostly combined with spicy Indian recipes like Chole, Bhindi Masala, Masala Alu etc.
Boondi raita is very easy to make and prepared in few minutes, the main ingredient of this raita is curd combined with crispy boondi made using chickpea flour and some spices like cumin powder, red chilly powder, salt etc. so its a good digestive and healthy food. Raita makes the meal more tasty.
You can also serve this raita with Alu paratha or rice dish to make a full meal.
In this post I have given step by step recipe so you can make it very easily.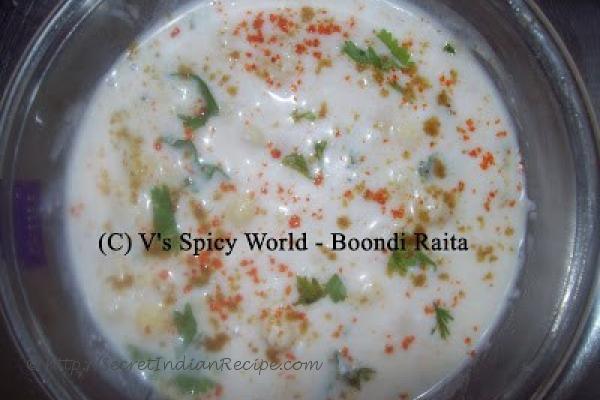 Ingredients:
½ Cup Boondi
2 Cups Curd /Yogurt/ Dahi
½ Tea Spoon Cumin Powder
½ Tea Spoon Black Papper Powder
½ Tea Spoon Red Chilly Powder(optional)
½ Tea Spoon Sugar (you can add more if you like sweet raita)
A pinch Kala Namak / Black Salt
Salt as per taste
Fresh green coriander leaves
Directions:
Soak boondi in warm water for 5-10 min/ till it becomes soft.
Remove water from boondi by pressing it and keep the boondi in a bowl.
In another bowl add curd.
Add cumin powder + black papper powder + red chilly powder + sugar + salt + kala namak and mix well.
Add 1 cup chilled water/adjust consistency as per your choice by adding chilled water. Mix well the batter, taste it and adjust spices as per your choice.
Add Boondi to curd mixture.
Add finely chopped green coriander leaves and mix well.
Boondi Raita is ready, while serving sprinkle a pinch red chilly powder + cumin powder + coriander leaves and serve chilled.
For more interesting recipes and articles please visit my blog www.vslittleworld.com