Bread Aloo Dahi Bara With Gulab Jamun (bread And Potato Dumplings Served With Spicy Curd And Gulab Jamun)
In Northern India, 'Chaat' is indispensible in any wedding function. In Every wedding you will find a crowded "chaat Corner'' serving a variety of these sweet and savoury dishes. The Idea of making Bread aloo dahi bara came to me when I had 'Pav chaat' in one of my cousins' wedding. The bread pieces were deep fried and then served with curd and Tamarind Chutney. What I liked about it is that, it is quite easy to make and does not require any preparation, like soaking and grinding lentil (like we do traditionally). The trick of my recipe is that it is served with Gulab Jamun, which gives you a sweet and creamy bite.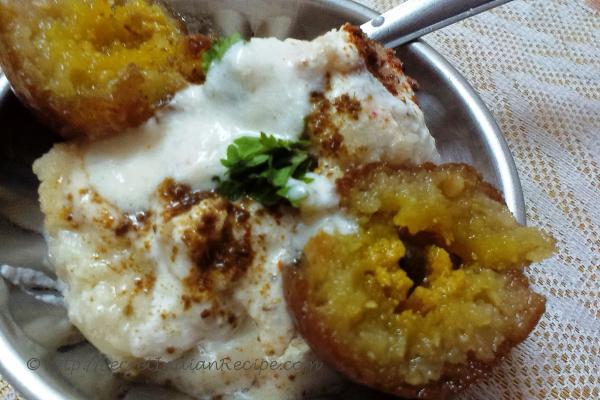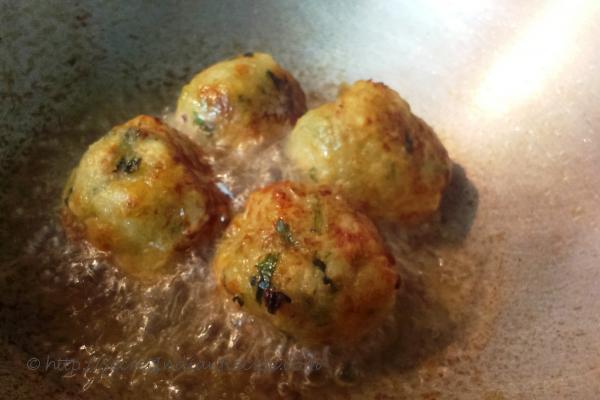 Ingredients:
For Bread Aloo Bara (Dumplings)
Bread – 4 slices
Boiled Potato – 1 small sized
Coriander leaves – few chopped
Salt – To taste
Refined flour – 2 tablespoon
Oil – 3-4 tablespoon to fry the Bara
For Dahi
Home made curd – 1 cup
Roasted cumin powder – ½ teaspoon
Roasted Red Chili Powder – ½ teaspoon
Rock salt – To taste
Gulab Jamun – 2 pieces
Directions:
(For Bread and Aloo Bara) Dab the bread slices with some water and then mash it along with boiled Potato. Add salt and chopped coriander leaves and make small rounds out of the mixture. Dust these balls with refined flour to give a smooth shape.
Now heat oil and fry these baras on medium heat till they turn golden brown. Keep aside.
For the dahi, combine curd, salt and sugar, Roasted Cumin and red chili powder in a bowl and keep in refrigerator.
To serve, take small plates. First keep two bread aloo baras at the centre. Then pour some dahi…enough to cover the baras. Now cut one Gulab Jamun into two or more pieces and keep on the top of dahi. Sprinkle some more roasted cumin and Red chili powder and serve.