Bread Batata Vada (bread And Potato Dumplings)
It is a very popular Indian breakfast recipe. The humble bread is moistened with little water and stuffed with potato (Batata or Aloo) mixture and then it is fried into soft flavourful dumplings. The spices can be altered to make variety of Bread Batate Vada. For the newbies the trick is to just damp the bread or brush it with little water. Over soaking can make binding difficult.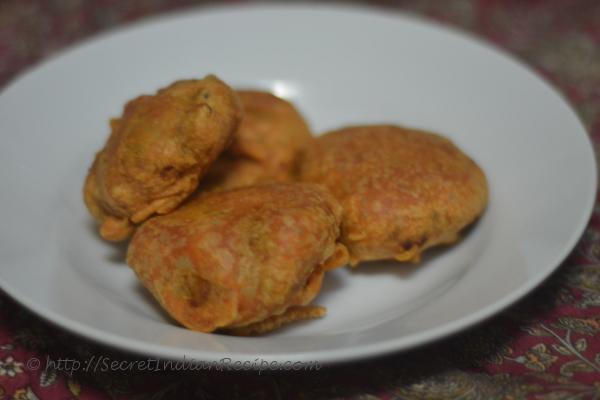 Ingredients:
Bread Slices – 8
Boiled potato – 3-4 medium sized
Ginger – grated 1 teaspoon
Turmeric powder – 1 teaspoon
Green chilies – 2-3 chopped
Salt to taste
Coriander leaves – chopped few tablespoons
Gram flour – ½ cup
Oil to fry
Directions:
Mash the boiled potato in a bowl.
Heat 2 – 3 tablespoons oil in a pan. Add the mashed potatoes, turmeric powder, ginger and chilies. Mix and cook till it turns into a smooth dough.
Add coriander leaves and salt to taste. Mix and leave it to cool a bit.
In the meantime prepare a batter of gram flour with a little salt and water. It should be semi thick.
Chop off the sides of the bread as they can make binding difficult. Dip each slice of bread gently in a bowl of water and then squeeze the excess water by holding and pressing it between your palms.
Place some potato mixture at the centre and then roll it up into a circular ball. Follow the procedure to get more vadas.
Heat oil in a pan over low flame. Dip each vada into gram flour batter and fry in hot oil.
Serve hot Bread batata vada with tea or chutney.