Bread Bonda (potato Stuffed Bread Fritters)
The most difficult question for any house-maker is' What to cook?' than ' How to Cook?'…..On weekdays, I really feel miserable when I cannot decide what to cook for breakfast and I end up eating the boring Cornflakes…..Some fitness freaks may argue that eating a healthy breakfast is essential but don't you think that sometimes you can indulge in Aloo paratha or Bread bonda. Bread Bonda is quite popular as breakfast recipe in Northern India. ' Bonda' is local name for Potato and Bread Bonda means bread stuffed with Potato filling.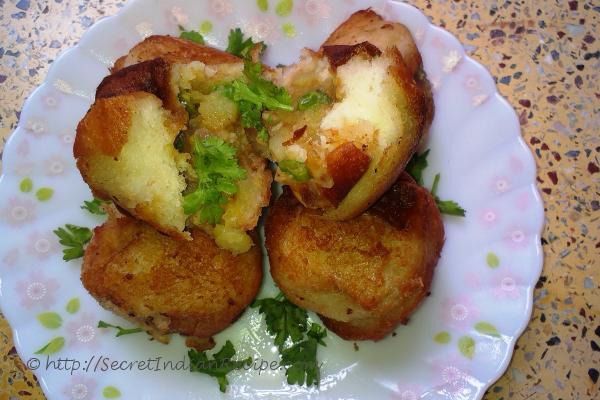 Ingredients:
Sliced Bread – 8 slices
Boiled potatoes – 5 small sized
Green Pea -1/4 bowl
Green chillies – 2-3 pieces (Chopped)
Tomato – 1 piece (Chopped)
Onion – 1 small sized (Chopped)
Peanuts – 3-4 tablespoon
Raw coconut – 3-4 tablespoon (Chopped)
Salt – As per your taste
Oil – For frying
Directions:
Peel off the boiled Potatoes and mash them in a bowl.
Heat 2-3 tablespoon of oil in a pan. Add chopped onions and fry till it becomes translucent.
Now add tomatoes, green chilies, green pea and mashed potatoes and fry for 5-6 mintues over medium heat…...while frying make sure that the pea is done (You can just blanch the pea before for quick process).
Finally add the chopped coconut, peanuts, green coriander leaves and salt to taste and mix. Keep sautéing for another 2-3 mintues to ensure all the ingredients are mixed properly.
Once the stuffing is ready, take small portions from the stuffing and roll it into small balls.
Keep a bowl of water ready. Then take a slice of bread and dip it in the bowl containing water. Take out the bread and then squeeze gently to drain excess water.
Now put one stuffing ball at the centre of the bread and then close the ends. Roll the Bonda into a small ball. Follow the procedure to make rest of bread bonda.
Pour oil for deep frying in a pan and switch on the gas. Gently put the bread bondas in batches and fry till they turn golden brown.