Bread Gold Coin
Bread discs topped with spicy paneer mixture sprinkled with cheese and deep fried till perfection. Bread gold coin. It is a Indian style gold coin made with paneer and veggies.
This yummy lip smacking gold coin waters your mouth and it is a perfect snack for a party, teatime and for kid.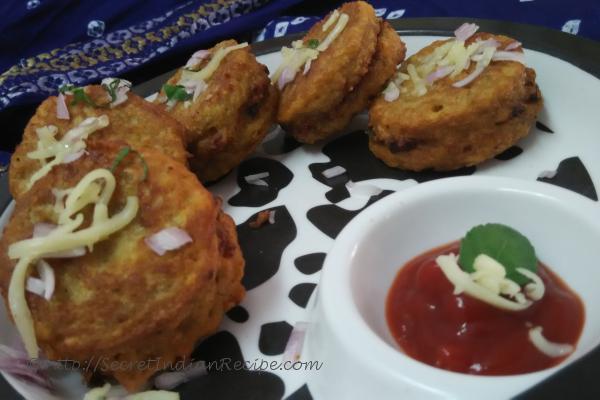 Ingredients:
1chopped Onion
1 chopped Capsicum
1cup grated Paneer (cottage cheese)
Salt to taste
1 tbsp Coriander powder
2 tbsp Soye sauce
1 tbsp Tomato sauce
4 brown Breads
4 tbsp Gram flour
@ tbsp Butter
1tbsp Turmeric powder
Pinch of Asafetida
Directions:
Heat 2 tbsp of butter, add finely chopped onion, capcicum and crumbled paneer Then add salt, coriander powder, soya sauce and tomato sauce. Sauté for 5 minute on low flame.
Let the mix cool in a separate bowl....Finally add grated cheese, finely chopped raw onion and now mix well.
Cut bread slices in round shape with the help of biscuit cutter or a small bowl.
Put small amount of filling and cheese over this bread and place another roundel on the top and seal it by pressing it. Similarly, prepare more coins..Press it properly.
Now for better take one bowl and add gram flour, salt, turmeric powder and pinch of Asafoetida.
Next add enough water to the flour to obtain a slightly thick mixture (it should be of dropping consistency, thick enough to coat the gold coin).
Dip each coin in the flour mixture and deep-fry in the hot oil on a medium flame until golden brown in color.