Bread Pakora Bites (bread Fritters) (bread Bhajis)
Diwali is just around the corner, I usually have many people visiting during this period. One common thing in all my guests is that they don't like to eat sweets, as by that time they have had an over dose of sweets and Mithai. So I thought why not serve something that's quick and easy to make as well as savory.
Bread pakora is my kid's favorite, so I have tweaked this recipe to be a great snack for my guests too.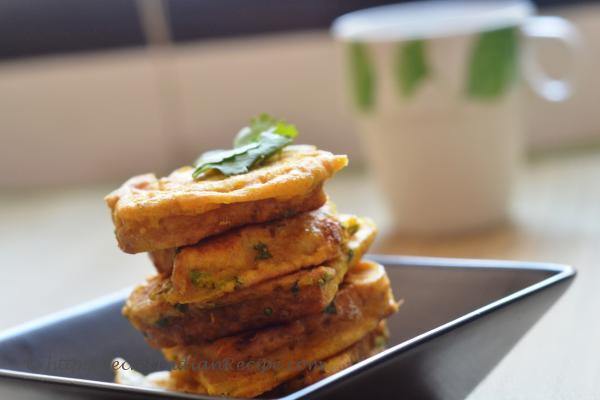 Ingredients:
2 Cups Besan (Chickpea Flour)
2 Tbsp Rice Flour
8 -10 Slices of bread
3 Tbsp freshly chopped coriander
3/4 Tsp garlic paste
Pinch of Garam masala
3/4 Tsp Red chili powder
1/2 Tsp Turmeric Powder
1 Tsp Ajwain (Carom seeds)
1/2 Tsp Kala Jeera/ Kalonji
Salt to taste
Water for batter
Oil for frying
Directions:
In a Bowl take besan and add all ingredients to the besan (except for oil, bread and water)
Mix well, and start adding water little at a time to make it into a thick batter. The batter consistency should be thicker than pancake batter. (Check seasoning; add a little more salt than required as the saltiness reduces when fried with bread. Set aside
Heat oil for frying, though deep frying is a better method for these pakoras but you may choose to shallow fry.
Cut one bread slice into 4 small pieces (square or triangular)
Dip each piece into the batter and fry in oil till golden brown on both sides.
Serve hot with Tea or coffee and with chutney or ketchup on the side.