Bread Pulao (bread Pilaff)
I just came back on a vacation for my last semester exams and my friends gave me a surprised visit. I had told them that I will cook for them only when I have all the necessary ingredients I want. I was out of option that evening when I found nothing in the kitchen except pieces of bread. My mother was yet to return from her trip of cousin's daughter marriage was making it more difficult for me. My aunt came to rescue and made a quick new recipe which left me amused. It was her mother's recipe which she use to prepare for her school tiffin. So here i bring you one of the most easy and quick recipe for your evening snack or children school tiffin.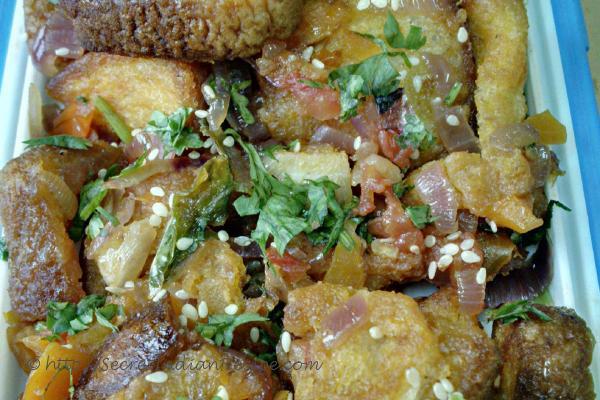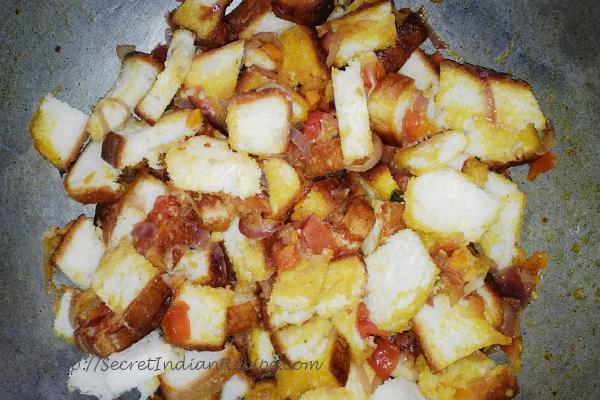 Ingredients:
Bread- 10pcs
Chopped onion- 2(small)
Chopped tomato- 1
Chopped green chilly- 1tbsp
Oil- 2tbsp
Chopped coriander- 1tbsp
Tomato ketchup- 2tbsp
Salt- To taste
Chaat masala- To taste
Roast white sesame seed- For garnish
Directions:
Cut the breads into 1 inch cubes. Keep it aside.
Heat oil in a kadai and add chopped onion into it.
When it turns translucent add chopped green chilly stirring for a minute.
Now add chopped tomato, salt and allow it to soften a little.
Add tomato ketchup and mix it well.
Turn off the flame and now add the bread cubes and chopped coriander into it.
Mix it quickly coating the bread all over the mixture.
Sprinkle chaat masala and serve it hot garnishing with roast sesame seed.
Footnotes:
If the bread is fresh then avoid removing the brown crust or else it will get mashed up.
Dont cut the bread into small pieces if it is fresh.