Bread Pulao (whole Wheat Bread Fried With Vegetables)
Bread pulao is vegetarian snack recipe suitable for breakfast or evening snack. I had this recipe on my way to Darjeeling from Siliguri. It takes approximately 5 hours to reach Darjeeling from siliguri and due to the distance and the weather condition, I was really starving. I stopped at a small shanty to have some food. I asked, what is for breakfast?. The lady owner replied in their typical accent, ' Momos, boiled eggs and bread fry I asked her to bring all. I was curious about ' Bread fry'.....When she brought the bread fry, it was actually bread pieces tossed with some onions and capsicum. After returning from Darjeeling, I tried to make it at home and named it ' Bread Pulao'. The addition of vegetables makes it a favourable option for breakfast. We can add eggs or chicken to make it more nutritious.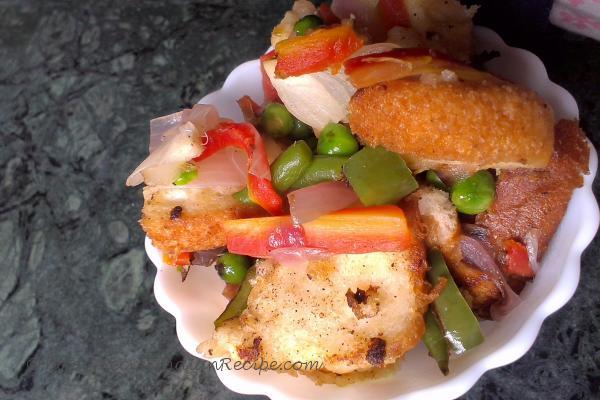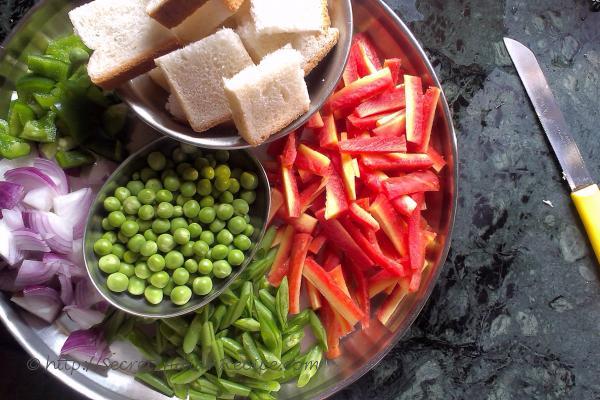 Ingredients:
Whole-wheat bread 500 grams (18 ounce)
Vegetables (carrot, beans, capsicum) 1 cup (chopped)
Green pea 1/4 cup
Green chillies 2 (chopped)
Onion 1 (sliced)
Refined oil 4 tablespoon
Salt ½ tablespoon
Black pepper powder ¼ tablespoon.
Directions:
Cut bread into four pieces and keep it aside.
Heat oil in a karahi and put chopped vegetables and onion. Cook on low heat till the vegetables are half done.
Add onion, green pea and green chilli and cook for about 5-6 mintues on low flame.
Finally add bread pieces. Sprinkle some water and mix well. Add salt and black pepper powder and sauté for a minute. Take it out on a plate and serve immediately with tomato sauce.