Bread Rolls & Bread Pakoras
Bread- Peanut-butter, Jam, Nutella,honey... And even before I know,I have my taste buds saturated with all that sweet and I m left with one big white bread loaf!
This recipe is my fav. when it comes to using bread in a salty creative way! Pakoras and Rolls where born for Tea - a perfect tea time snack!No debates- it goes pretty well with Coke as well:)
Try this simple recipe and never again you will have sleepless nights thinking how to deal with all that white loaf bread!
As always, feel free to drop a line of encouragement and/or improvement suggestions!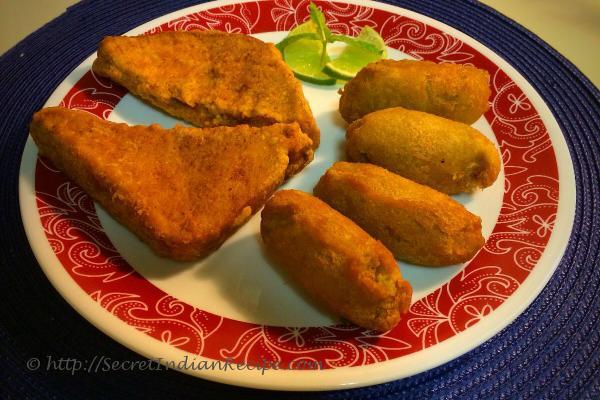 Ingredients:
White Bread - 8 Slices
Potato- 5 boiled and mashed
Green Peas- Boiled and mashed- 1/4 cup
Ginger- 1 inch- chopped very small
Green Chillies- 5( APT)- finely chopped, Coriander Leaves- 1/4 cup chopped
Masala- Garam-1/4 tsp, red chilli pwdr- 1/4 tsp, cumin pwdr-1/4, coriander pwdr-1/4 tsp
Salt, one Lemon, Oil for Deep frying, Oil- 1tsp for frying potato filling
Gram Flour-3 serving spoons- for Pakora batter,1tsp- rice flour
Water for batter- 1/2 cup
Directions:
Heat a non stick pan, add a tsp of oil, add the potato, peas, masalas, green chili, ginger, coriander leaves and salt fry for 2 mins switch off heat and let the mixture cool- then squeeze half lemon on it, stir in.
For Pakora: Take Gram Flour, rice flour, salt, masala, half lemon juice and add small amounts of water and remove all lumps - make a batter of flowing consistency- should be like dosa batter or more like Honey! Cut two breads across diagonal- keep little potato filling in between and lightly press two halves together. dip the triangle stuffed bread into the batter. In a deep frying pan over medium high heat fry on both sides till crispy and golden in color- take out in a kitchen paper towel
For Rolls: Take 4 breads stack them up, and chop off the brown sides. In a bowl of water dip you palm and press one bread slice, making it flat Take a small ball of Potato filling and shape it like a blunt cylinder( as in pic) Keep this filling in the water pressed bread slice and 'blanket' cover it! Making sure filling is not bursting the bread cover. In same deep fry pan, fry it in LOW-MeDiUM heat for 6-7 mins or till golden brown- rolls will take more time than pakoras so we gotta keep our patience! Take out on Paper for soaking excess oil
Serve with - Lemon Wedges, Green Chutney, Mint Yoghurt chutney, Ketchup or even spicy coleslaw!
Footnotes:
For Rolls oil needs to be at a gentle temperate else the potato filling will burst out and spoil the entire oil!
For Pakoras dip the triangle in batter with brown edge first then the adjacent brown edge then front and back! Sounds complicated like any dance move but you will understand once you do it! It's just a suggestion!