Bread Upma
Bread upma is a simple and tasty savory breakfast dish made with leftover bread, tomato onion, and some spices.
What is Bread Upma?
Bread Upma is a favorite, quick, and easy breakfast dish made with leftover bread. Just like the traditional Upma, it is made with similar ingredients and the same way.
This upma can also be served as a tea time snack in the evenings or after school snack for kids as well.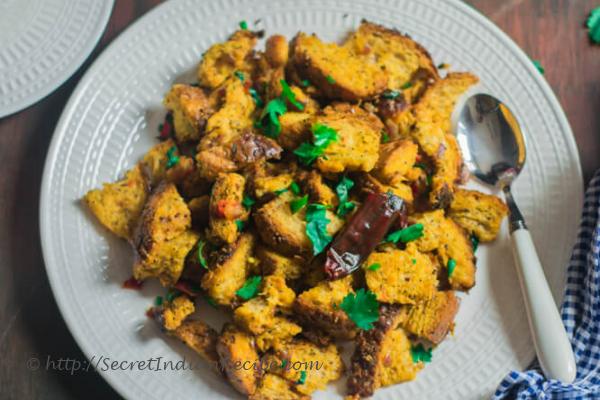 Ingredients:
cups bread pieces cut in squares 1 onion chopped 2 to matoes chopped 2 green chillies chopped 1 teaspoon cumin seeds 1 teaspoon mustard seeds few curry leaves 2 dry whole red chilli broken into pieces 1 teaspoon lemon juice optional a pinch asafetida 1/2
Directions:
Cut the bread into square pieces and set aside. Heat oil in a pan and add asafetida, cumin, dry whole red chilli, mustard seeds, and curry leaves. Stir and add chopped onions. Let the onions cook until slightly golden in color. Now add salt, coriander, turmeric, garam masala, and red chili powder. Stir and add tomatoes and green chili. Cook until tomatoes are soft. Finally, add bread pieces, mix and sprinkle few drops of water. Add lemon juice and coriander leaves., mix well. Serve and enjoy.