Breakfast Recipe Fluffy Omelette
We can make various dishes using eggs like Masala Egg, Cheese Omelette etc. but my Son loves fluffy omelette. Whenever I make omelette in usual style he don't eat it so now after some experiments I realize that cooking omelette with steam makes it fluffy and it get cooked properly.
And the most important thing is my son eat it without any fuss, he likes it and always demand for more. Try this may your kids will also love it.
You can make this omelette for dinner or as a evening snack for your kids. So lets start with the recipe…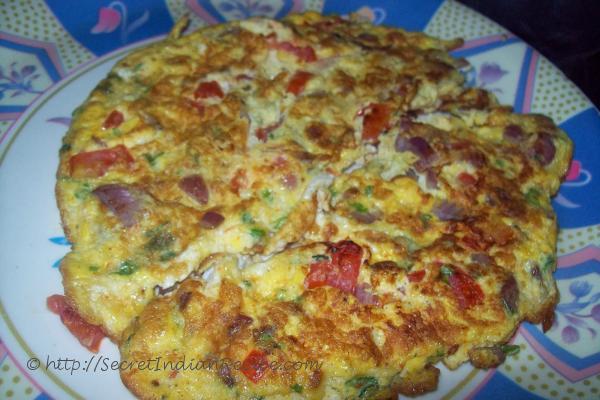 Ingredients:
2 Eggs.
1 Medium Onion (finely chopped).
1 Small Tomato (finely chopped).
A Pinch Red Chilly powder ( or as per taste).
A Pinch Haldi/ Turmeric Powder (optional)
1 Teaspoon Oil / Butter.
Salt as per taste.
Fresh green coriander leaves (finely chopped).
Directions:
Add onion, tomato, coriander leaves, haldi, salt, red chilly powder in a bowl and mix it well.
Add 2 eggs and mix properly.
In a non-stick pan and heat 1 tsp oil or butter. Butter makes it more tasty than making it in oil. Make it on low flame.
Make sure oil / butter is hot, add the mixture in Pan, the gas must be on low heat.
Close the pan with lid for 30-40 sec., flip the omlette and close with lid for another 30 sec.
After few sec. approx 30 open the lid and check, you will find it fluffy, if not cover for another 4-5 sec. Check and flip, cook for few sec. and serve it.
You can also add shredded cheese on top.
Visit - www.vslittleworld.com - for step by step instructions with pictures for this recipe.
Footnotes:
You can also add capsicum to make it more nutritious and tasty.
Other Indian Recipes that you may Like !