Broccoflower Stir-fry
Recently i came across this unusual looking vegetable... When asked the veg vendor what is was, he said its an hybrid of cauliflower and broccoli..and its called the Broccoflower. I was quite fascinated by how it looked and bought it. I decided to cook it stir-fry style with very little masalas so as to taste the original flavor of this vegetable.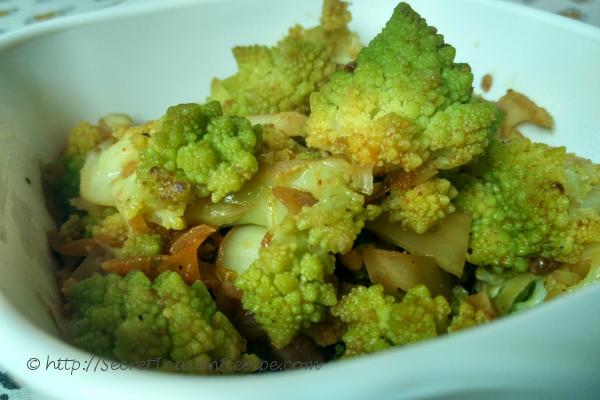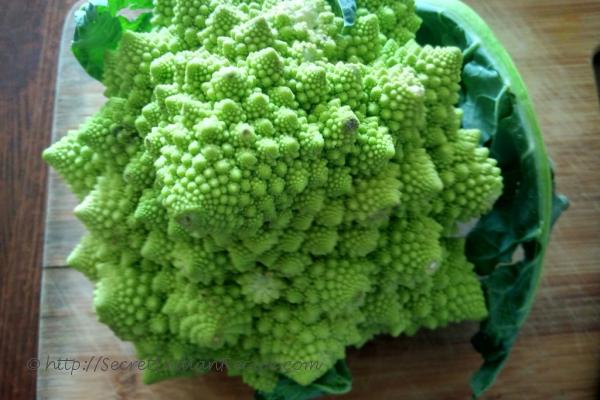 Ingredients:
Broccoflower : 1
Oil : 4 tbsp
Salt to taste
Cumin Powder 1tsp
Coriander powder 1/2 teaspoon
Fresh coriander chopper: 5 tbsp
Mustard seeds : 1/2 tsp
Turmeric 1/2 Tsp
Green Chilies: 2
Garam masala 1/2 tsp
Pinch of sugar
Hing (asafoetida) : 2 pinches
Directions:
Chop the broccoflower into small florets.
In a pan/ pot hear oil. When oil is hot, add mustard seeds. When the mustard starts to splutter add hing, and slit green chilies. Add finely chopped onions, stir and cook for 2 mins.
Now add coriander power, cumin powder, turmeric and give it a quick stir. Add tomatoes cover and cook for 3-4 mins
Add in the broccoflower florets, salt and sugar. Mix well. Cover and cook on medium flame for 10 mins and then on cook uncovered for 2 mins on high flame (heat).
Check if the broccoflower is cooked, if not continue cooking uncovered for on medium heat for a few more minutes.You can also add the coriander at this stage (It took me about 15-20 mins to completely cook the veggie)
Remove from heat and serve hot with rice or rotis.