Brown Rice Angoori Rasmalai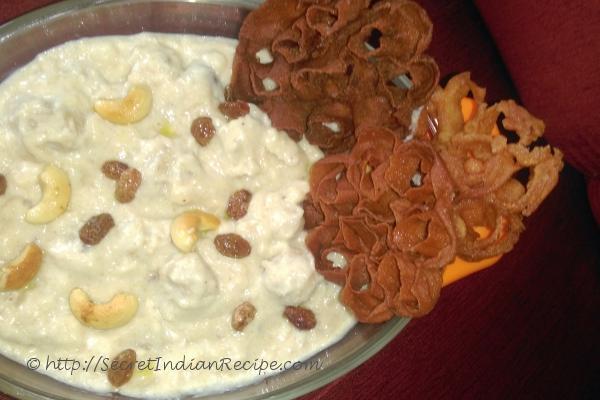 Ingredients:
Scraped Coconut- 1/2 cup
Milk- 1 Litre
Sugar- 4 tbs
Brown rice- 1 cup(soak for 2 hours ,then grind into thick paste)
Noren gud ( Palm jaggery) - 2 tbs
Salt - 1/2 tsp
Scraped Coconut- 1/2 cup ( grind it)
Tej Pata(Bay leaf) - 2 nos
Cardamom- 2 nos
Cloves- 2 nos
Kaju (Cashew)- 10 nos. for paste
Desi Ghee- 1 tbs
For Garnish - fried Cashew, Raisins,, brown rice rose cake
Directions:
FOR ANGUREE : Combine half brown rice paste, coconut, kaju paste thoroughly and keep on the fire stirring constantly ,till mixture thickens and leave the sides of the pan. Then make into Angur (Grape) size balls with wet palm & keep aside.
Method: Heat milk with Tej Pata, cardamom, cloves . Then add one by one, rest of rice paste, coconut, salt & keep stirring till it thicken enough to coat the back of a spoon. Add Anguree balls, sugar, Noren gud. Cook till it turns thick like Kheer. Add ghee, fried cashew, raisins, brown rice rose cake.
Ready to serve hot or cold any time-