Bundi Kadhi
Bundi Kadhi is a simple and quick to make side dish recipe.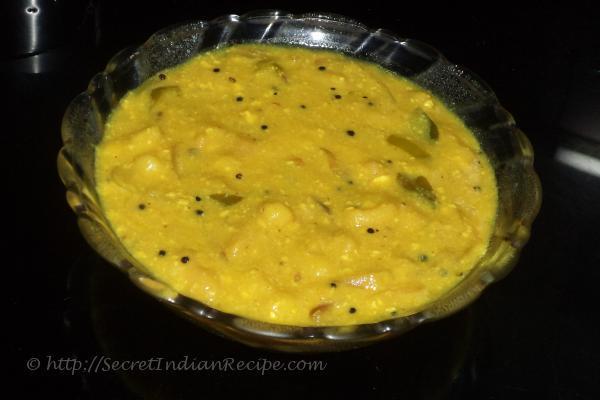 Ingredients:
Gram Flour- 1 cup
Curd - 2 cup
water to make thin batter - 4 cups
Red chili powder - 1 tablespoon
Turmeric powder - 1 tablespoon
Garam masala powder - 1 tablespoon
Salt - to taste
Small black mustard seeds - 1/4 tablespoon
Onion - 1 medium size ( finely chopped)
Methi / fenugreek seeds - 1/2 Tablespoon
Curry leaves - 16 to 20 leaves
Whole Red chili - 2-3 pieces
Mustard oil - 3 tablespoon
Asafoetida - 1-2 pinch
Bundi - 2 cup
Directions:
Take curd in a large bowl. whip it well to make it smooth and add the spice powders - turmeric powder, red chili powder, garam masala powder and salt.
Now add the gram flour to the curd. pour water and mix and make a thin batter. there should be no lump.
In a large deep pan, heat mustard oil and add asafoetida, fenugreek seeds and mustard seeds and let it fry. Afterwards add onion, add curry leaves and dry red chili. fry till the onion become golden brown.
Now pour our liquid curd and besan mixture into it and let it boil for 2 mintues. Keep stirring.
Finally add bundi to it. and cover for 2 mintues. your dish is ready to be served.
Footnotes:
use a wooden spoon or spatula to dissolve the lumps into the curd. you can use a blender to make this mixture, but make sure you don't over do it.