Burnt Garlic Chicken Fried Rice.
This is a full meal in itself , a one pot rice, with all required nutrients.A meal , rich in proteins, due to its method of cooking, and the chicken .It satiates you, and can be combined with either Crispy Chilli Chicken or Crispy potatoes.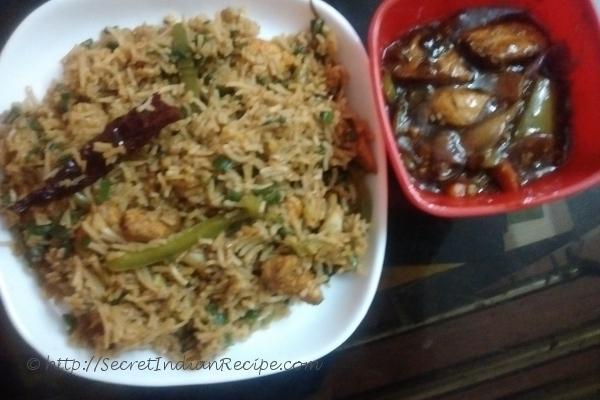 Ingredients:
• 2 cups basmati rice
• 4 cups water for the rice
• 4 whole red chilli
• 2 pods garlic (1 peeled only, and 1 peeled and chopped)
• 1 inch ginger peeled and chopped
• 6 green chillies chopped
• 1 cup of diced vegetables (Capsicum,carrot, french beans)
• 6 sprigs spring onions (chopped)
• 300 gms boneless chicken (diced in cubes)
• half tbsp. hot red chilli
• 1/2 tsp chilli flakes
• 1/2 tsp oregano
• 2 tsp. soya sauce
• half tsp . white pepper powder
• 1 spoon browned onions (optional)
• 1 tsp Olive oil
• 1 tbsp refined oil
• salt to taste
Directions:
Soak the rice for 20 minutes.Then boil in 4 cups water with salt as per taste, and 2 drops of refined oil.
Drain and keep aside.The rice grains should be seperate and long grains.
Marinate the diced chicken for just 15 minutes with salt, white pepper, red chilli powder , hot red chilli sauce, and few drops of soya sauce.
In a Wok or Kadhai,take 3/4th tbsp refined oil, add finely chopped ginger, garlic & green chillies, saute, add whole red chillies, then add marinated chicken , fry for five minutes only, next add diced vegetables, saute for five minutes, also add white split portion of spring onions finely, keep the greens aside to be used later.Add salt to taste, soya sauce, saute,add the chilli flakes and oregano, now add rice, fry for two minutes on high flame . Cover with an airtight lid & cook over low flame for 10 minutes.Put off fire , let it rest.
Now in a small vessel, take 1/4th tbsp of refined oil & 1 tsp. of olive oil, heat , add 10 whole garlic cloves, fry till brown,Give tadka to the cooked rice, add 1 spoon browned onions, and the green portion of spring onions for garnish, Mix the rice well. Cover for five more minutes.
The dish is ready, enjoy the flavorful burnt garlic chicken fried rice steaming hot served with Chilli Chicken gravy or Chicken Manchurian.
Footnotes:
Why is this dish called Burnt Garlic fried Rice? The garlic cloves fried in olive oil, give it the flavor of burnt garlic, hence the name.