Burnt Garlic Chowmein
The all time favorite chinese dish... cook it at home and enjoy!!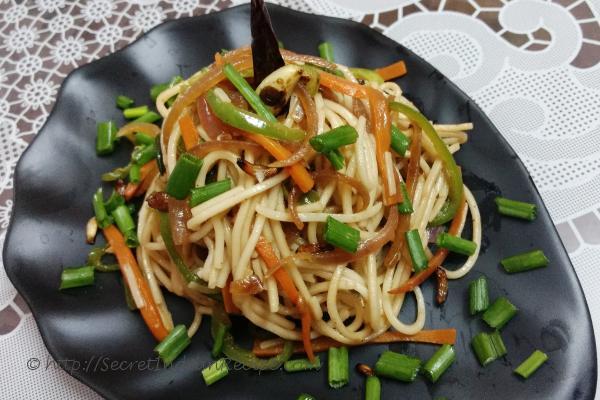 Ingredients:
1. Noodles – 200gm/half packet
2. Garlic – 1 tbsp
3. Garlic small sized - 1 small bunch
4. Onion (big) – 1 pc
5. Spring onion (white and green) – 3 pcs
6. Capsicum (small) – 1 pc
7. Carrot (small) – 1 pc
8. Vinegar – 1 tbsp
9. Chilli sauce – 1/2 tsp
10. Soya sauce – 2 tbsp
11. Ginger Garlic paste - 1 tsp
12. Black pepper powder – ¼ Tsp
13. Tomato Ketchup -1/2 tsp
14. Salt – to taste
15. Chilli flakes - 1/2 tsp
16. Dried Red Chilli - 1 pc
17. Water (for boiling noodles) - 10-11 cup
18. Cooking oil - 1.5 tsp+ 1tsp
19. Olive oil - 3 tbsp + 1 tbsp
Directions:
Heat water in a big vessel, add 1.5 Tsp of oil and noodles. When noodles are cooked, strain the hot water and wash the noodles under running tap water so that they cool down. This is done to avoid the noodles from getting overcooked.
Add 3 Tbsp of olive oil in the washed noodles so that the noodles do not stick to each other. Mix well and keep it aside.
Finely chop garlic cloves and peel off small garlic clove bunch and keep it whole, do not chop it. Chop spring onion greens and white separately. Slice carrot, capsicum and onion in thin juliennes.
In a bowl mix soya sauce, vinegar, chilli sauce and ketchup. Keep aside.
In a pan, take 1 tsp oil and add garlic clove whole pieces and fry them till the point when it starts getting golden brown. Remove it in a bowl. With the heat of oil, garlic will itself turn golden brown in the bowl. Important thing to check is, it should not burn, just get fried.
Take 1 Tbsp of oil in a wide pan. Immediately add the chopped garlic. Cook until it start getting golden brown. Then add dried red chilli, onion, spring onion white & green (leaving 1/3 green portion for garnishing) and ginger garlic paste; cook for a minute.
Add the sauce mix and carrot. Saute for a minute.
Add capsicum, red chilli flakes, black pepper powder and salt (keeping in mind that the soya sauce also has some salt content in it)and toss everything well. Cook for another one minute.
Add noodles and sauté for another 3-4 minutes.
Transfer the contents in a bowl/plate, and garnish with fried garlic cloves along with its oil and spring onion greens.
Hot burnt garlic noodles are ready to enjoy!!