Butter Chicken
Butter chicken is believed to be developed by a cook in Moti Mahal restaurant in New Delhi. Since then, it is being savored by people not only in India but also abroad. Its mouth-watering, rich, creamy, mildly spicy taste is so enticing that it is been served by all the big restaurants in the India. We also want you to indulge yourself in the flavorful, aromatic recipe of Butter Chicken.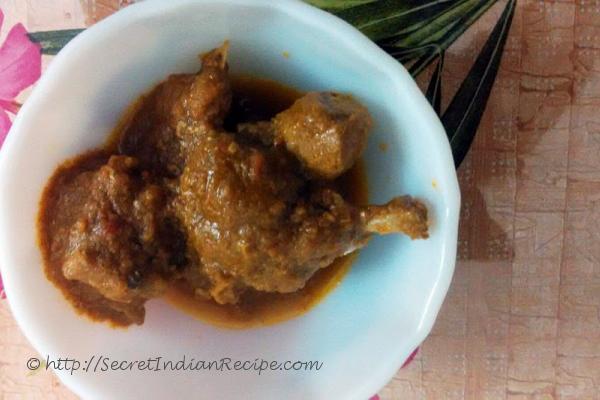 Ingredients:
Boneless chicken 700 grams
For marinade:
¾ cup plain yogurt (Stained or hung)
1 teaspoon Turmeric
1.5 tablespoon Garlic paste
1.5 tablespoon Ginger paste
1.5 teaspoon Dried Fenugreek leaves (kasuri methi)
1 teaspoon Garam masala
1/2 lemon juice
For Gravy:
Butter - 10 grams
Garlic paste - 1 tablespoon
Red chili powder - 1/2 tablespoon
Cumin Powder - 1/2 tablespoon
Green chili - 2-3
Tomato puree - 2 medium sized tomatoes
Salt to taste
Meethi powder - 1/2 teaspoon
Garam masala powder - 1/2 teaspoon
Kasuri Meethi - 1/2 tablespoon
Directions:
Wash chicken under running water and pat dry.
Marinate with lemon juice, chili powder, yogurt, kasuri methi, oil, turmeric, ginger garlic paste, and garam masala powder. Refrigerate for at least 3 to 4 hours, overnight works wonder. It will make the chicken soft will melt in your mouth.
Preheat the oven to 200°C/400°F/Gas Mark 6. Grill the chicken in an oven or stove top. Add one tsp. butter and add the marinade. Fry on high flame till all the moisture evaporates. Cook till it is golden brown.
Now, heat the pan and add butter and immediately add the garlic paste. Now, add slit green chilly. Also add cumin powder, red chilli powder, salt and other spices.
Add the tomato puree and cook till the gravy leaves the side and starts bubbling.
Pour 1 cup water and add methi powder, almond paste or almond milk. Cook the gravy for 5 minutes. Add kasuri methi and garam masala to it. Add chicken and simmer for about 5 to 7 minutes till it becomes soft and tender.
Other Indian Recipes that you may Like !