Butter Corn
Butter corn is a snack recipe specially popular in Mumbai. As the name suggest the recipe has two main ingredients – corn and butter. Corn contains. Iron, calcium, Vitamin A, B and C. Traditionally, in India, corn is eaten by roasting it over a gas burner or ' Chulha' . But it is difficult for children and old people to have corn that way as in the process of roasting it becomes hard. This recipe can combat this problem and as the corn is boiled, it can be easily chewed by all ages.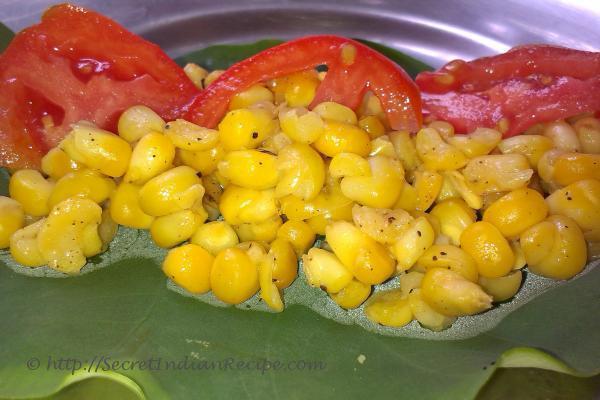 Ingredients:
Corn – 1 cup
Butter – 2 tablespoon
Salt – ½ tablespoon
Black pepper powder – ¼ tablespoon
Lemon juice – ½ tablespoon
Tomato and cucumber – few wedges (optional)
Directions:
Put the corn in a pressure cooker with ¼ cup of water and cook upto two whistles. Drain the excess water and keep aside.
In a karahi or pan heat 1 tablespoon of butter and pour the boiled corn. Sauté for 2-3 seconds.
Add salt, lemon juice and black pepper powder. Saute for another few seconds and then pour it on a plate. Garnish with 1 tablespoon of butter, tomato and cucumber wedges.