Cabbage, Carrot And Capsicum Sabji
This simple stir fried recipe, loaded with nutritious veggies but flavoured with minimal ingredients. I just love this crunchy veggie. Try this stir fry cabbage, carrot and capsicum recipe with one spoon of oil only.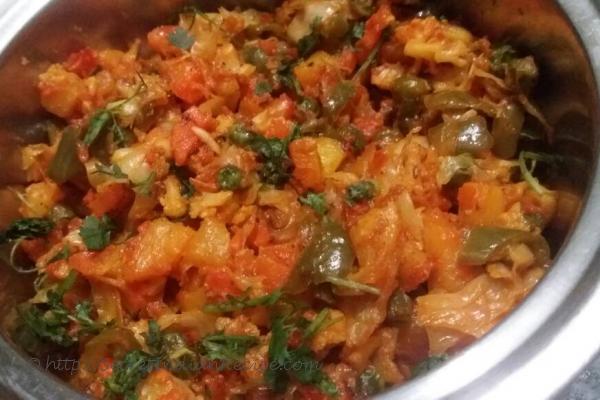 Ingredients:
Cabbage (patta gobhi) – 3 cups (shredded)
Capsicum – 1 cup (shredded)
Carrot – 1/2 cup (chopped)
Frozen Peas - 1/4 cup
Ginger 1 ½ inch piece
Green chilies - 2-3 (chopped)
Red chili powder – ¼ teaspoon
Turmeric powder – ¼ teaspoon
Mustard seeds 1 teaspoon
Pinch of Orange colour
Salt to taste
Oil 1½ tbsp
Kasuri methi - 1/4 teaspoon
Fresh coriander leaves (chopped)
Fresh cream - 1 teaspoon (optional)
Directions:
Wash and clean cabbage, carrot and capsicum separately. Keep aside.
Heat oil in the pan. Add mustard seeds. When seeds start crackling add asafoetida.
Reduce the heat, add grated ginger and chopped chilies and fry for a few seconds.
Now add carrot. Fry for 5 minutes.
Now add the shredded cabbage, peas and capsicum together. Add salt, red chili powder, turmeric powder and give a quick stir.
Begin to stir fry on the high flame for 5- 7 minutes. No need to cover the pan.
Make sure veggies are not over cooked, it should be little crunchy.
Now mix the colour with the cream and add it to the sabji.
Rub the leaves of kasuri methi between your hands to make powder and sprinkle it. Mix well.
Garnish with coriander leaves and serve with roti.