Cabbage Thenga Thoran (cabbage With Coconut)
Cabbage Thoran is a traditional side dish that is seen in every sadhyas in Kerala. This can be made in different ways. This is my daughter's favourite side dish.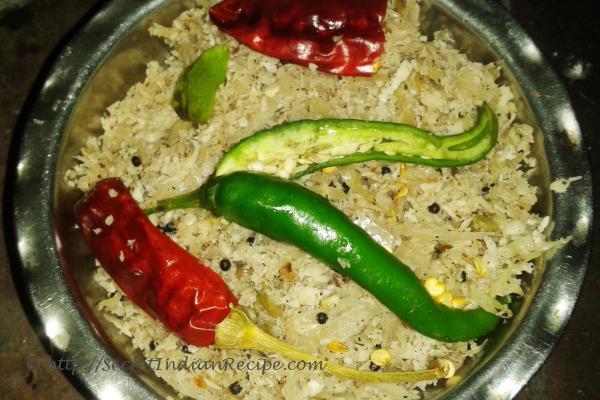 Ingredients:
Chopped Cabbage - 500grams
Grated coconut -1/2cup
Green chilli -4 nos.
Oil -2 tablespoon
Mustard seeds-1 teaspoon
Curry leaves -2 sprig
Red chilli -2 nos.
Chopped onion -1/2 of an onion
Salt -as you need.
Directions:
Switch on the stove and place a pan on the stove.
Pour oil in the pan.
When the oil gets heated, put mustard seeds, curry leaves and red chilli.
Add onions and fry till they become soft.
Mix chopped cabbage, grated coconut, salt and green chilli to it.
Cover it and cook it for 10 min in low flame.
Serve hot and enjoy.
Footnotes:
You can add turmeric powder if needed.