Capsicum Fried Rice (indo-chinese Fried Rice With Tri-colour Bell Peppers)
I love the colours of these bell peppers and if it looks nice, it makes me want to have my meal. Another reason I end up doing this rice is because of the leftover bell peppers I often end up with because of my salad making stints. You can add other veggies to this rice but the best part about bell peppers are that you don't have to bother cooking them much unlike carrots,beans or peas. You can also use leftover rice to prepare this rice because rice chilled overnight works best for fried rice.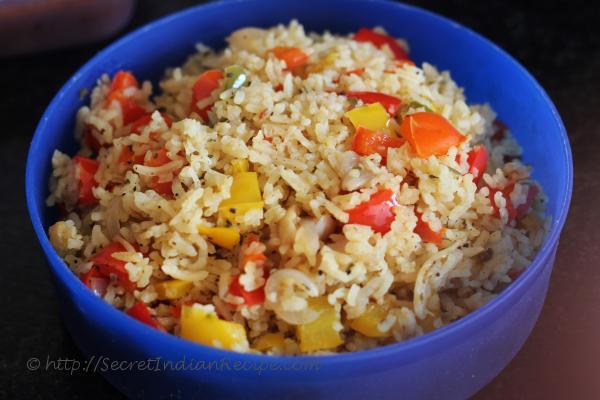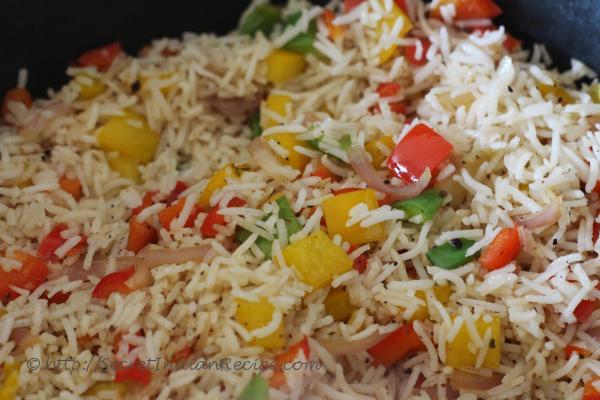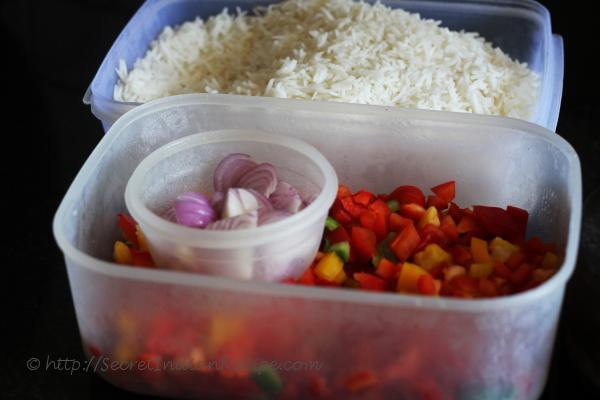 Ingredients:
Basmati rice- 2 cups
Red bell pepper- 1
Yellow bell pepper- 1
Green bell pepper- 1
Onions-2
Water- 4 cups
Pepper powder- 1/2 tsp
Garlic- 6 cloves
Soy sauce- 2 tsp
Oregano- 1 tsp
Oil- 4 tsp
Directions:
Boil water with the salt and add the washed rice after the water starts to boil.
Once the rice is half done, drain the rice and pour cold water over the rice to prevent the rice from cooking further.
Heat oil in a wok and add the minced garlic cloves. When the garlic browns add the chopped onions followed by diced bell peppers.
Add salt, pepper and oregano and saute the bell peppers till they soften. Add soy sauce at this point and then add the rice.
Do not stir,but toss the rice ever 2-3 minutes and cook till the rice is perfectly cooked.This should take 10-15 minutes.
Serve with a gravy of your choice.