Carrot Beans Thoran (carrot Beans Stir Fry With Coconut)
This Thoran is a side dish in South India. It is a delicious and tasty one. We use to prepare this during Onam festival. Carrot and beans both are equally good for health. This is served as a accompaniment in some wedding lunches in Kerala.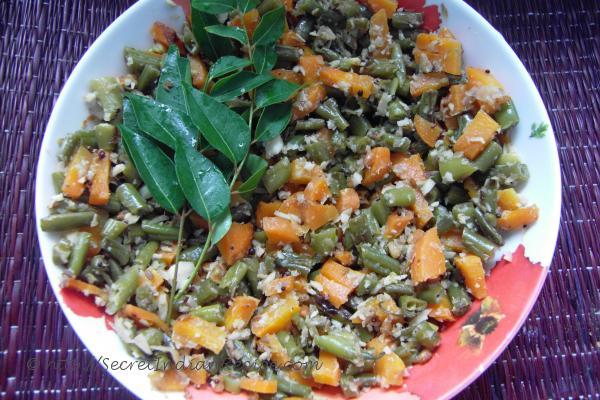 Ingredients:
Beans - - 1/2cup
Carrot - - 1/2 cup
Onion - 1
Green chilli- 3
Turmeric powder-1/4 tsp
Coconut grated - 1/2 cup
Coconut oil - 1 tsp
Chilli powder-1 tsp
Mustard-1 tsp
Cumin seeds - 1/2 tsp
Curry leaves- 5- 6 leaves
Urad dal (Black gram)- 1/2 tsp
Salt -1 tsp
Water for grinding-2 tsp
Directions:
Wash carrot and beans. Trim the ends of carrot and lightly scrape its skin. Chop into fine small cubes and keep aside.
Grind coconut with 2teaspoons of normal water, cumin seeds, onion, chilli powder, green chilli and keep it aside.
Heat coconut oil in a pan and add mustard seeds. When it splutter add Uraddal, beans, carrot, curry leaves, turmeric powder and salt.
Close the pan with a lid for 3 to 4 minutes. Stir occasionally. When carrot and beans cooked completely, add coconut ground mix.
Stir well and cook for 2 to 3 minutes.
Now Carrot Beans Thoran is ready to serve.
Footnotes:
We can add more coconut if this Thoran is more spicy, so that spiciness will become less.