Carrot Gulab Jamun
Carrot halwa and Gulab Jamun are very popular Indian deserts. Gulab jamun and Ice cream, Carrot halwa and Ice cream are the perfect combo and we get in many restaurants. Did you tried Gulab Jamun and Carrot halwa at the same time. Two delicious, mouthwatering sweets, way to haven.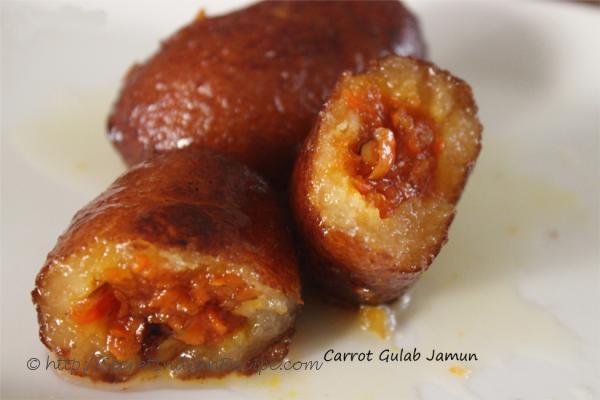 Ingredients:
Grated Carrot - 1 cup (Don't pack the cup)
Sugar - 1/4 to 1/2 cup (Adjust to taste)
Chopped Almond & Cashews - 2 Tbsp
Ghee - 1 Tbsp
Cardamom Powder - 1/4 tsp
Ingredients For Gulab Jamun:
Gulab Jamun Instant Mix - 200 grams (Available in Indian grocery store)
Sugar - 2 cups
Water - 1 cup
Cardamom Powder - 1/4 tsp
Directions:
Heat ghee in a pan, fry chopped almond-cashew and add grated carrot and fry for 3 minutes.
Add sugar, mix and cook. Sugar will melt and become liquid, cook by stirring in between until there is no water. Finally, add cardamom powder and mix.
Mix gulab jamun powder by following the instructions on the pack.
To a thick bottomed pan, add sugar and water and boil to make light syrup, add cardamom powder .
Make balls of the dough. Make the dough like small puri's as shown in the image by using hand or rolling pin and stuff the carrot mixture and close carefully. (Can make round or oval shape)
Heat oil for deep frying and fry the stuffed gulab jamun on medium flame till they turn golden brown.
Immediately after taking from the oil transfer them to sugar syrup.(Syrup must be warm not cold) Serve hot or cold.