Carrot Manga Achar (carrot And Mango Pickle)
Last week I made two pickles. The first one has already been posted- onion pickle. It needs some time to get ready and so I pickled some carrots left unused on my pantry for a week. Now since carrots can be too sweet I thought of pepping it up with some raw mangoes. It is surprising that I did not pickle mango this season so I thought of doing this annual ritual of pickling mangoes a bit differently this time. This is my grandfather's recipe and he used it to pickle lemon with bird's eye chilies. I will share them some day.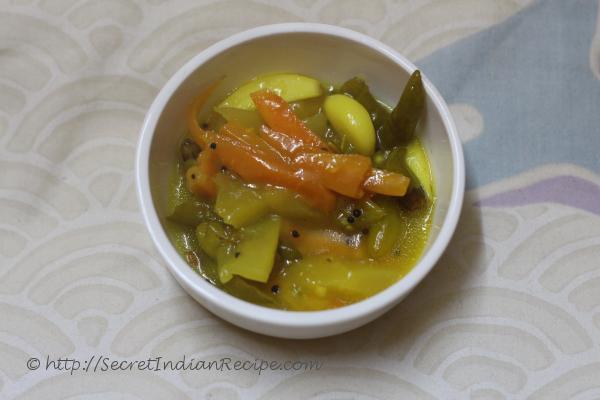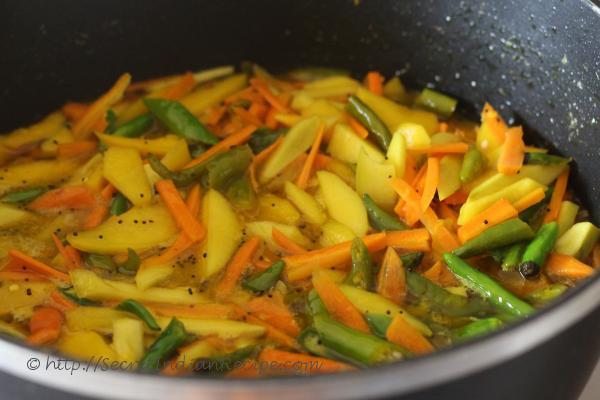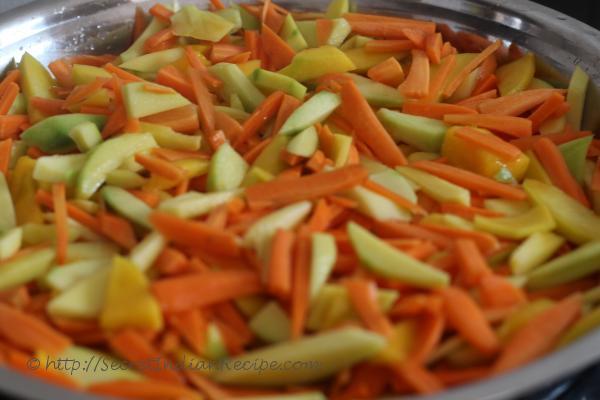 Ingredients:
Raw Mangoes- 3
Carrots- 1/2 kg
Green chilies- 100 g
Fenugreek seeds- 1 tsp
Mustard seeds- 3 tsp
Turmeric powder- 1 1/2 tsp
Asafoetida- 1 tsp
Salt- 8 tbsp
Boiled water- 1 and 1/2 cup
Garlic- 20 cloves sliced
Ginger- 2 inch long piece
Sesame oil- 200 ml
Directions:
Peel and slice the mangoes and carrots into thin strips. Slice the garlic cloves into halves and ginger into long strips.
Boil water with 5 tbsp salt and let it cool down. Meanwhile marinate the chopped mangoes and carrots with salt and set aside for 2 hours if possible a day.
Heat oil in a pan and add the mustard seeds. After the mustard sputters, add the fenugreek seeds and let it roast for a second.
Add the sliced garlic and ginger and fry them for 3-4 minutes over medium heat. Now add the turmeric and asafoetida powder and saute them till their raw smell goes away.
Now add the marinated carrot and mango slices along with the sliced green chilies.
Coat the veggies in the spices by sauteing them for 3-4 minutes. Add the boiled water with salt and bring the pickle to a boil.
Let it simmer for 5-6 minutes and then switch off the flame. Transfer to sterile jars after a day.
See that the oil tops the pickle and start using the pickle after a week.
Footnotes:
Adding water will not spoil this pickle many ask me about this. As long as there is oil on top of the pickle this does not happen.
If you find no oil on top of pickles after bottling heat some oil and cool it first and then pour on top of bottles.