Carrot Mezhukkupuratti (carrot Stir Fry)
Carrot mezhukkupuratti is a traditional Kerala dish. It is a healthy dish. Carrot has good content of water and fiber so it good option to reduce fat. It contains beta-carotene and Vitamin A which is important for eyes. It is also good for digestive system, skin and your immunity.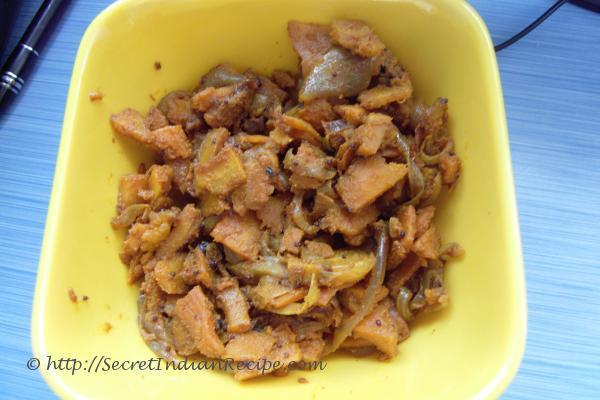 Ingredients:
Carrot strips- 1/2 cup
Green chilli - 3
Dry Chillies- 2 to 4
Coriander powder- 3 tsp
ChilliPowder- 1tsp
Turmeric powder- 1 tsp
Onions chopped- 2
Mustard- 1 tsp
Curry Leaves- few
Coconut oil-1 tsp
Salt- to taste
Directions:
Peel and cut carrot into long thin pieces.
Wash, drain and keep aside.
Crush onions and dry chilli together.
Heat coconut oil in a nonstick pan and add crushed mix along with curry leaves.
Saute until the raw smell goes.
Then add turmeric powder, coriander powder, chilli powder and salt, saute for some time.
Then add carrot and mix well.
Then close the pan and cook for 10 to 20 minutes in a low flame.
After that open the pan and stir the carrot in low flame for another 5 minutes. Check salt.
Now the very easy and healthy carrot stir fry is ready to serve.
Footnotes:
If your carrot is not sweet enough, then we can add a pinch of sugar to enhance the taste.