Carrot Salad
This salad is inspired by a Maharashtra based dish called Koshimbir. Koshimbir is a side dish in traditional Marathi Thali. It is not cooked and contains very less oil. I have prepared this Salad using the same vernacular spices. You may consume it directly or even make it a part of Thali. I have it in lunch in office in summers.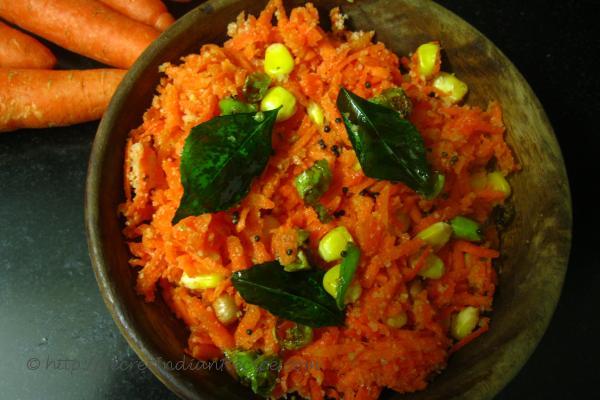 Ingredients:
4-5 Carrots
1/2 cup steamed Sweet corn
1/4 cup roasted Peanuts
1 table spoon oil
1 pinch of Mustard seeds
1 stick of Curry leaves (8-10 leaves)
2 Green chilies- chopped
a pinch of Asafoetida
Salt for taste
Directions:
Grate carrots and mix with the steamed sweet corns and salt.
Roast peanuts on a tava/kadhai/frying pan. Keep some peanuts aside and crush the remaining as a coarse powder. Add these peanuts and coarse powder to the grated carrots
Heat oil in a small pan and add mustard seeds till they pop. Put asafoetida, green chilies and curry leaf in it and immediately put this hot oil to the carrots' mixture.
Dish is ready to serve.
Footnotes:
Carrots are hard to eat. This dish is an easy and interesting way to have carrots. I am sure you will like it.
Tip: You may add sesame seeds in hot oil.