Carrot Urulaikizhangu Mezhukkupuratti​i (carrot Potato Stir Fry)
I think when it comes to carrots all we can think of is halwa. Carrot is otherwise dumped into every mixed vegetable curry maybe because it is too sweet for a vegetable. I often make stir fried with carrots alone this time we had unexpected guests so I had to add two potatoes to make this curry sufficient for all. So if you want to omit potatoes you still have the option. Back in our hostel this curry was also made with beet root. I think it makes a great filling for a masala dosa, vegetable cutlet or samosa. If you plan to try a samosa or cutlet using this recipe add some ginger garlic paste when you saute the spice base.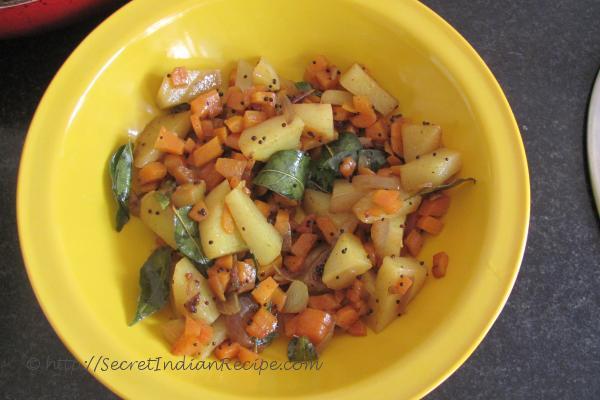 Ingredients:
Carrots- 6 medium ones
Potatoes- 2 large ones
Shallots- 10
Curry leaves- 1 stalk
Mustard seeds- 1 tsp
Garlic- 6 cloves
Green chilies- 3
Turmeric powder- 1/2 tsp
Salt to taste
Directions:
Peel and chop the carrots and potatoes finely. Mince the shallots using a mortar and pestle.
Chop the garlic and green chilies finely.
Heat oil in a pan and add the curry leaves and mustard seeds.
When the mustard seeds splutter add the chopped chilies and garlic and saute till the garlic browns.
Now add the vegetables and sprinkle the salt. Cover the pan with a lid and cook over low flame for 10 minutes.
When the vegetables are half cooked add turmeric powder and stir the vegetables. Cover and cook again for 5 minutes and the mezhukupuratti is ready.
Footnotes:
Mincing the garlic brings a different flavor.
Add chili powder if you want the stir fry more spicier or if you find the carrots too sweet.