Cauliflower - And -green Peas Ularthiyathu (cauliflower Green Peas Fry)
It is a tasty recipe. This is good to serve as Tiffin. It is a quick traditional Malabar dish. When guest drop in, we can make this recipe very easily. Kids will love this. I got this recipe from my Mom.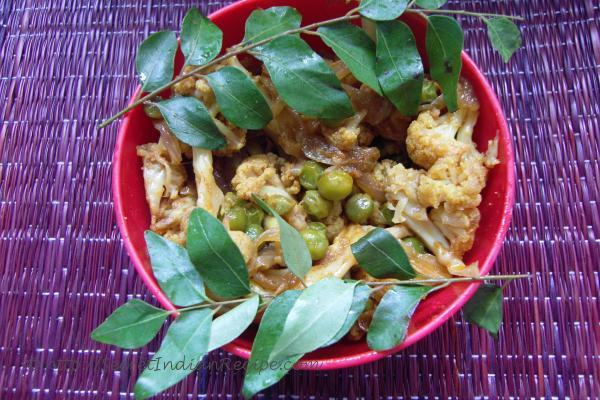 Ingredients:
Cauliflower florets -1 cup (diced)
Green peas -1/4 cup (fresh)
Salt- as required
Green chilli-3
Turmeric powder-1/4 tsp
Water - 1 cup
Curry Leaves-Few
Chilli powder-2 tsp
Mustard-1 tsp
Coconut oil - 1tsp
Coriander powder-1tsp
Boiled water -1 cup
Normal water -3 cup
Onions -2 (Chopped)
Directions:
Wash and clean cauliflower florets in 2 cups of normal water. Before cooking we have to put cauliflower florets in 1 cup of boiling water for 5 minutes.
Heat coconut oil in a pan and add mustard seeds. When it splutter add onions, chilli powder, turmeric powder, coriander powder, green peas, cauliflower florets, salt and curry leaves.
Saut'e for 5 minutes until cauliflower is coated with spices properly. Add 1 cup of normal water to this .
Close the pan with lid and cook for 5 minutes. Stir well until cauliflower is fully cooked and water dry up completely.
Serve with hot rice.
Footnotes:
When we make Cauliflower Green peas Ularthiyathu, we can add carrots and beans to make it more tastier.