Cauliflower Roast (roasted Whole Cauliflower)
Cauliflower is liked by all. It is a good source of vitamin C, k and B6.It also provide us protein, fiber.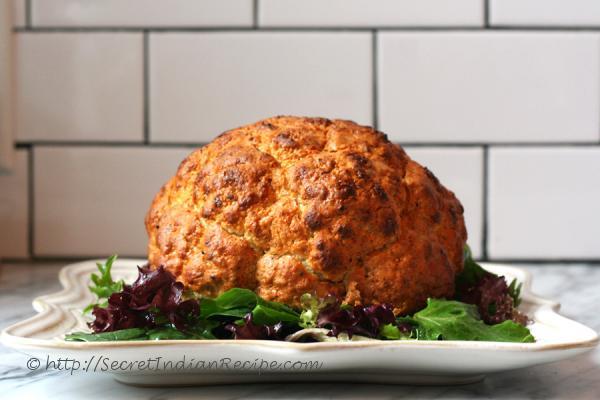 Ingredients:
Medium size cauliflower 1 boiled
Spinach boiled to make a paste 3 tbsp
Tomato puree ½ cup
Green chilli paste ½ tbsp
Ginger paste 2 tbsp
Kasoori mathi (dried fenugreek leaves) 1 tsp
For dry masala): Roast and grind together
Coriander seeds 4 tbsp
Mustard seeds ½ tbsp
Aniseeds ½ tbsp
Fenugreek seeds 4/5
Black pepper ½ tbsp
Salt to taste
Refine oil 2 tbsp
Directions:
Heat oil, add Ginger paste, sauté for 2 minutes.
Add Green chilli paste and Spinach paste ,Tomato puree and salt.
Add roasted masala and Kasoori mathi.
Rub salt over the cauliflower.
Coat cauliflower with the gravy and keep at microwaves oven for 10 minutes in grill mood.
Footnotes:
Posted by Tapashi Dey Food Writer & Blogger Visit my facebook page https://www.facebook.com/groups/1476298562630295/