Cauliflower Thoran (cauliflower With Coconut Kerala Style)
Cauliflower Thoran is a lovely and tasty recipe. I learned this recipe from my mom. I am a lover of Nadan dishes. So decided to make cauliflower in Nadan style. Thanks mummy for teaching me the dish so that I have an addition to my recipe list.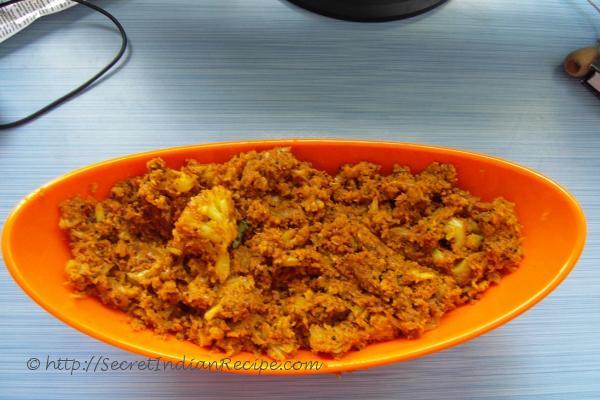 Ingredients:
Cauliflower- 250 gram
Mustard- 1/2 tsp
Small onion- 4
Red chilli powder-1 tsp
Turmeric powder- 1/2 tsp
Curry leaves- few
Grated coconut-1 cup
Cumin seeds- 1/2 tsp
Salt- to taste
Coriander powder- 2 tsp
Gram masala-1 tsp
Coconut oil - 2 tsp
Directions:
Gently grate cauliflower and keep it ready.
Heat oil in a non-stick pan and crackle mustard seeds.
Add sliced small onions and curry leaves.
Once onion becomes soft add grated cauliflower and salt, saute for 5 minutes.
Cover the pan and cook on low flame. Remove the lid after 10 minutes and mix well.
Heat oil in another pan add grated coconut, cumin seeds, turmeric powder, coriander powder, chilli powder and gram masala.
Fry for 5 minutes. Then ground this mixture. Keep it aside.
When cauliflower is cooked, add this ground mixture and stir well.
Cook on a low flame for 5 more minutes.
Now cauliflower thoran is ready to serve.
Footnotes:
Before cooking we have to put cauliflower into boiling water to kill germs inside in the cauliflower.
We have to buy good quality cauliflower.