Chai Laccha Paratha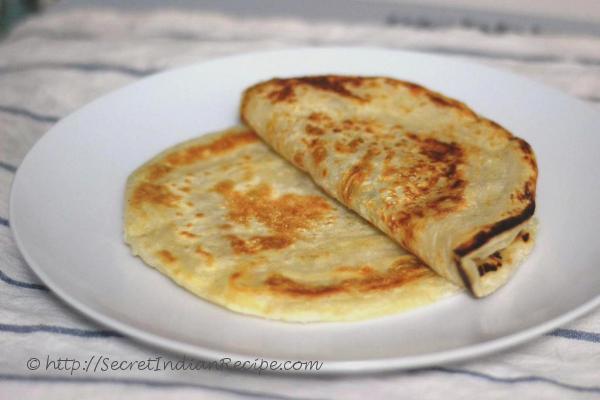 Ingredients:
Maida 2 cups
Oil 2 tbsp
Salt 1/2 tsp
Ajwain ( carrom seeds) 1/2 tsp
Water for kneading
Oil for cooking
Ghee as required
Directions:
In a bowl, take maida, salt, ajwain and 2tbsp oil.
Mix well.
Slowly add water and start kneading into a smooth dough.
Kneading Maida can be tricky, it needs continuous kneading for at least 10 mins to become smooth and pliable without sticking.
2 Cups of maida may need about 1/2 cup water in total. But this quantity differs +/- 20% depending on the quality of maida.
Once knead well, divide the dough into 7-8 equal portions depending on how big you want to roll it out.
Take a round and with help of a belan or roller, roll it into a medium sized circle (about 7-8" diameter)
In the centre brush a little ghee
Now fold roti into half, then further into quarter and then further fold. Keep folding as much as you can
Finally roll it out again into a circle
Now Roll the flat dough from one end to other (like a Swiss roll)
Make the long dough stand and press it from top to bottom. You should be able to see the circles
Finally roll in out again into a small paratha
Cook on hot tawa for 1 min on each side
Drizzle oil from sides while cooking
Serve hot with tea
Footnotes:
You may also use a mix of maida and wheat flour 50-50