Chakli / Crispy Savory Spirals / Diwali Snacks
Chakli is a deep fried savoury snacks which is spiral in shape with a spiked surface. Maharashtrian prepare this chakali with a special flour called as Bhajani which is made by roasting Rice with various lentils like Bengal Gram , Skinned and split black gram ,Split and skinned green gram, coriander and cumin seeds and then grinding it to a powder. This bhajani (flour) is added to spiced boiling water with sesame seeds and some butter. The mixture so obtained is kneaded to a dough, shaped into circular forms using a snacks maker and deep fried. Making perfect chakli needs lots of patience and practise. The temperature of oil needs to be monitored at every stage during a batch while deep frying chakli .
Sharing my mom's infallible recipe of Chakli from scratch. #diwalirecipe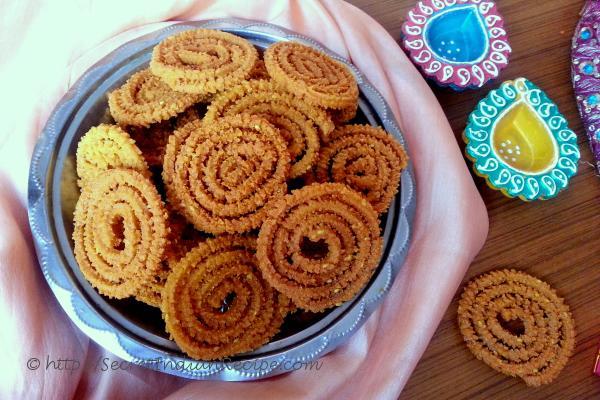 Ingredients:
Ingredients for Chakli Bhajani( flour) · 6 cups Rice
· 3 cups split and skinned Bengal gram ( chana dal)
· 1 ½ cups split and skinned Black gram ( dhuli urad dal)
· ¾ cups split and skinned green gram ( dhuli moong dal)
· 1 cup Coriander seeds( sabut dhaniya)
· ½ cup Cumin seeds ( Jeera)
For the Chakli dough · 2 cups Chakli Bhajani (flour)
· 2 cups water
· 2 tbsp. Sesame seeds(Til)
· 1 1/2 tbsp. melted Butter (makhan)
· 1 tbsp. Carom seeds ( ajwain)
· 1 1/2 tbsp. Red chili powder (lal mirch)
· ½ tsp. Turmeric powder (Haldi)
· ¼ tsp Asafoetida ( hing)
· Salt to taste
· Oil for frying
Directions:
Roast all the ingredients for Chakli bhajni individually on a low flame until fragrant. Allow them to cool down and grind to a powder( flour) in a grind mill.
Bring 2 cups of water to a rolling boil in a heavy bottom sauce pan. Add Sesame seeds, melted butter , salt and spices (carom seeds , red chili powder , turmeric powder, Asafoetida). Stir and lower the flame. Add the chakli bhajni . Mix well with a wooden spoon and put off the flame. Cover and leave it aside for at least 30 minutes.
After 30 minutes, add little water and knead the mixture into a soft dough.
Fill the dough into a chakli mould or a snacks maker fitted with a disc which has a single star shaped cutout.
Line the working platform or cutting board with a parchment paper and press the snacks maker so that the dough comes out through the star shaped cutout on to the parchment paper.
Moving the wrist into circular motion, shape the pressed dough into spirals as it comes out. Small spirals with 3 round are easy to handle. Break off the end and press it lightly into the last coil to ensure it does not come apart later. Make 4-5 such spirals, one batch at a time. If you make too many ahead of time they will dry up and the spirals may not hold shape.
Heat sufficient oil in a frying pan till moderately hot. To check the readiness of oil, drop a small ball of dough into it. If it sizzles and comes up to the surface with tiny bubbles around it, within 2-3 seconds then the oil is just right. If it takes more time, let the oil heat up a little more.
When the oil is ready, pick up the spirals using a flat spatula, one at a time and slide into the hot oil carefully. Slip in as many spirals as the frying pan can accommodate comfortably without overcrowding.
Once in the oil leave them untouched for 1 minute or so. Then touch the spirals with a slotted ladle, if the spiral has turned hard and the colored changed to golden brown, then flip. Fry on the other side for another 1 minute or so and then remove them using slotted ladle, shake off excess oil and then place them onto a plate lined with an absorbent paper.
Repeat the process till all the dough has been used up. Let the chaklis cool down completely. Store them in an airtight container. Enjoy the crunchy tasty Chaklis with hot cup of tea or coffee.
Footnotes:
Making perfect chakli needs lots of patience and practise. The temperature of oil needs to be monitored at every stage during a batch while deep frying chakli . If the temperature of oil is low the chakli will start breaking and lose their shape and absorb more oil, if the temperature is high you end up in a non-cooked burnt chakli.