Chana Daal Platter
Chana Daal Platter
Chana Daal is one of the most favorite ingredient of any Gujarati or Rajasthani dish. This platter includes the Chana Daal Samosa, Fried daal, Chana Daal Nachos and are served with dips. #DiwaliRegionalrecipe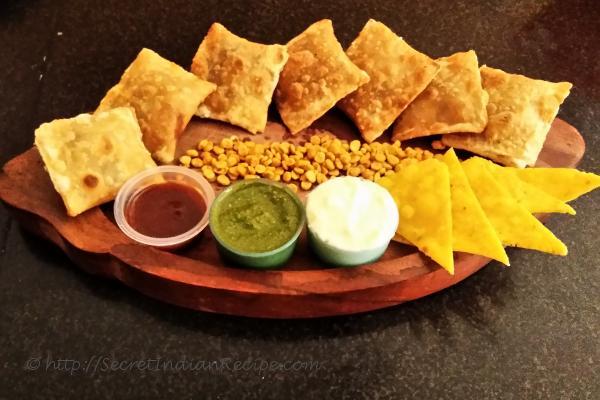 Ingredients:
Chana Dal ( Split Bengal gram)1 cup soaked for 4 hours
Pudina ( MInt) 1 cup
Onions 2
Maida ( All purpose Flour 1 cup
Garam masala 1 tspn
Salt and Red chili powder to taste
Ajwain (Carom)1 tspn
Oil for frying
Directions:
For Chana dal samosa Filling : Soak and coarsely grind the dal. In a pan heat 2 tspn oil, add finely chopped onions and sauté them, Add Pudina, grounded dal and other dry ingredients and cook for 6-7 mintues.
Make a dough of maida and divide it into equal sized balls. Roll the balls and cut it into square. Stuff the chana filling. Fold it and seal it into triangle shape.Deep fry them at medium flame.
For Fried Dal: Just deep fry the soaked daal till it becomes crispy. sprinkle salt and pepper.
For Chana daal Nachos: Take 1/2 cup maida, add ajwain and chana daal crushed finely. add salt and 1 tspn oil. Make paratha kind of dough. Roll it in a big roti and cut into triangle shape. Deep fry it
Serve everything with some dips.