Chana Dal Ladoo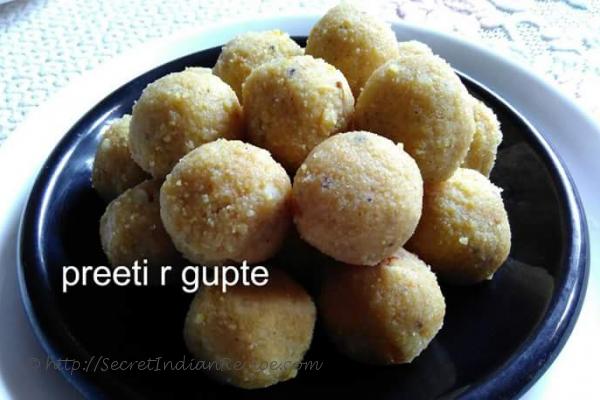 Ingredients:
Ingredients 1 cup of chana dal (soaked overnight) 1 tbsp of water ghee for frying as needed 250 gms khoya 1 cup castor sugar 100gms almond powder 2-3 tbsp cashew nuts cardamom powder 1/4 spoon milk to sprinkle
Directions:
Channa Dal Laddoo Method - In a grinder, grind the overnight soaked chana dal and add some water too. - Once done mix it well and make round balls of it. - Heat up some ghee and then fry the chana dal laddus in it. - Once the laddus are fried properly take off from the pan. - Break the laddus and let them cool down. - Once the laddus are cooled down grind them again. - Take the grinded powder and add it into heat ghee and let it cook on low flame for 15 minutes. -Add khoya to the dal and mix it well, let it cook for another 15 minutes. -Turn off the flame and add castor sugar and almond powder and mix it well. - Add chopped cashew nuts and cardamom powder. - Now sprinkle some milk over it and start rolling the mixture in round shape. - Chana Dal Laddu are ready to be served.
Footnotes:
Must try it's very unique and tasty for sure !!!