Rhomesecret Recipe: Chana Madra (chick Peas In Yoghurt Gravy)
This Recipe was cooked at Renaissance Mumbai's Lake View Cafe as a part of #RHomeSecrets on 19th June 2016.
Chana Madra is a thick yoghurt based gravy from the Pahari region of Himachal Pradesh. Chana is cooked in yoghurt to make this gravy. It is a different recipe with chana rather than usual chana masala. So I liked the recipe very much.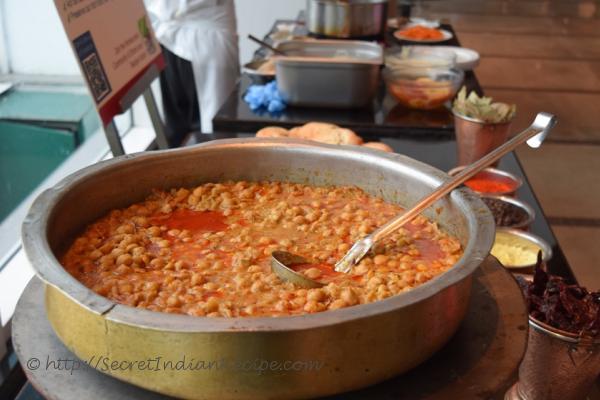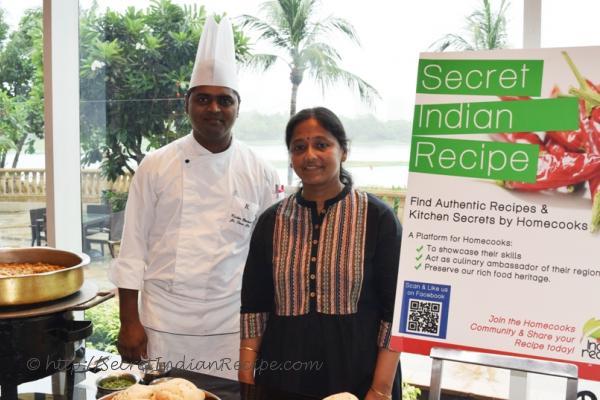 Ingredients:
Cooked chick peas – 2 cups
Black cardamom - 2nos
Cloves – 4
Cinnamon stick - ¼" for garam masala
Black pepper – 10
Cumin seeds – ½ teaspoon
Coriander seeds - 1 tablespoon
Turmeric powder – ¼ teaspoon
Chilli powder - 1- 1/2 teaspoon
Salt - 2 teaspoon
Asafoetida - ¼ teaspoon
Mustard oil – 2 tablespoon
Cinnamon – 1" for tempering
Curd – 1 cup
Rice flour – 1 tablespoon
Butter or ghee – 2 tablespoon
Water – 1 cup
Chopped coriander for garnish
Directions:
Directions: (Step wise)
Soak chickpeas overnight and pressure cook it with little salt and 1½ cups of water until cooked.
Grind together cardamom seeds, cloves, black peppercorns, and ¼" cinnamon.
. Mix rice flour with water and keep aside.
Heat oil in a saucepan and add cumin seeds. When cumin seeds splutter add asafoetida and sautefor few seconds.
.Add the garam masala powder, coriander powder, cinnamon pieces, turmeric powder and fry for few seconds.
Add cooked chickpeas, chilli powder, salt and mix properly and fry for 2-3 minutes until spices coat the chickpeas.
Turn the heat to low, gradually add beaten curd while stirring the chickpeas. This step is crucial. Keep stirring until curd mixes well. Increase the heat to medium and continue cooking until curd starts to boil. Keep stirring the mixture to avoid the curd from breaking up or curdling.
Add rice flour mixture, butter or ghee and keep stirring. Once it comes to a boil, cook for 3-4 minutes or until it is cooked and reaches the right consistency. The gravy thickens as it cools.
Garnish with coriander leaves and serve with roti, puri or rice.
Footnotes:
Chick peas has to be soaked overnight.