Chandrakanthalu ( Sweet Lentil Cakes)
#DiwaliRecipe - This is a traditional sweet made in Andhra Pradesh. It is also prepared in Orissa and is known as 'Chandrakanti. '
It is crispy outside and tender inside. Often prepared during deepavali time by my grandmother.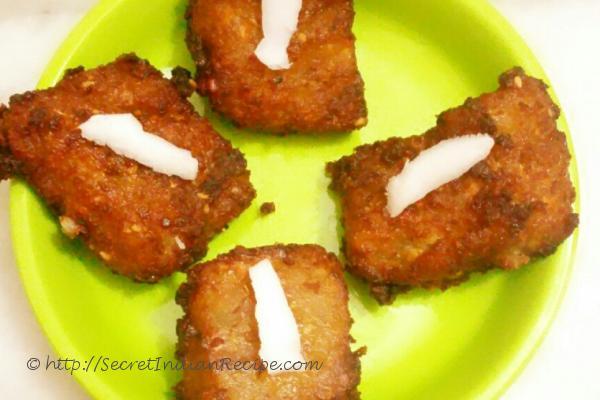 Ingredients:
Moong dal / Pesara pappu / Split Green gram - one Cup
Sugar - one and a half cup
Water - For soaking.
Grated coconut - one cup
Cardamom - 4,
Oil for frying,
Ghee - 1 tablespoon,
Edible Camphor – a pinch
Sesame - a teaspoon.
Directions:
Soak the Split Green gram for one and a half hour. Then drain the water and grind it into a paste. You can use the drained water for the remaining process.
Take a heavy bottom pan and put it on a medium high flame.
Now prepare a sugar syrup by adding sugar, a glass of drained water. Stir it continuously till it reaches a string consistency.
Then on low heat add grated coconut, sesame, cardamom powder, moong dal paste, edible camphor. Stir well continuously with a ladle.
Cook this until a texture similar to that of halwa is formed. Note that it is not sticky.
Transfer this mix into a ghee coated plate and level it evenly. While it is hot cut it into desired shape with a knife.
Let this cool completely.
Heat Oil in a pan over medium flame and carefully fry these cut pieces till they reach golden brown.
Switch off the stove and transfer these into a serving plate.
Serve the crispy and tasty chandrakanthalu at room temperature.
Footnotes:
Stir the mix continuously on low flame to avoid lumps formation.
Drain the water completely while grinding the paste. It should not be very smooth or very coarse.