Chane Ki Dal With Kachi Kairi ( Lentils Cooked With Raw Mango)
Summer is the season of Mangoes In India. It is used both in Raw and ripe form in many food preparation. Raw Mango, when added to any dish makes it slightly sour. This dal recipe uses raw mango to give that punch of sourness to the dal… It tastes delicious!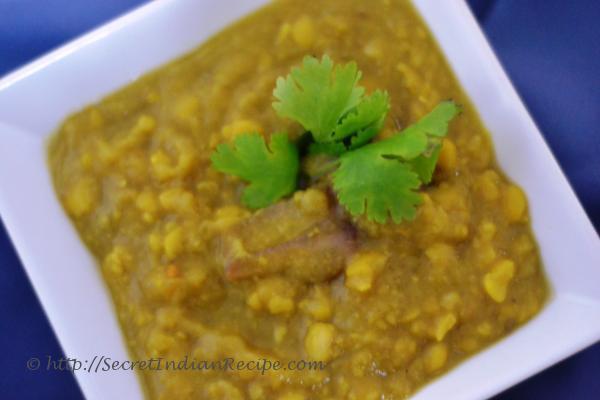 Ingredients:
Chana dal ( splitted bengal gram ) - 150 grams
Onion paste - 1 onion
Ginger Garlic paste - 1 tablespoon
Red chilli powder - 1 tablespoon
Kachi kairi ( raw mango) -1/2 mango chopped roughly
Turmeric powder - 1/2 tablespoon
Ghee - 1 tablespoon
Oil - 2 tablespoon
Salt - 1/2 tablespoon
Directions:
Wash the chana dal and pressure cook with a cup and half of water upto 4-5 whistles or until it is cooked.
For the tempering: Heat oil in a pan and add onion paste followed by ginger garlic paste. Fry for few seconds. Now add red chili powder and turmeric powder. Fry till the masala leaves the oil. Add kairi and switch off the gas.
Pour the tarka (Tepering) over already cooked Chana dal , add some water to get the required consistency and let it boil for a minute.
Add a tablespoon of hot ghee just before serving. Serve with rice.
Footnotes:
Do not over boil the dal.