Chatpatta Paneer (tangy And Spicy Cottage Cheese Dish)
This was a dish which my aunt makes. I love it so much that this is a must have on the menu when I host parties. A simple yet full of flavor.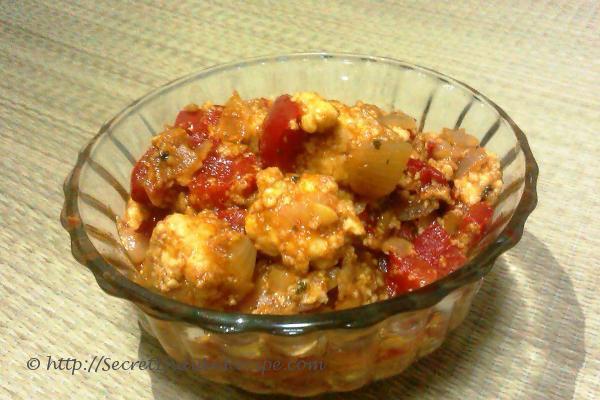 Ingredients:
200 gms Paneer (Cottage Cheese) (fresh/ frozen)
2 large onions finely chopped
1 large red capsicum (bell pepper)
Oil for cooking (about 3-4 Tbsp)
1 Tbsp Ginger finely chopped
2 Tbsp Garlic finely chopped
Half a Tsp Haldi (turmeric)
1 Tbsp Chili powder (Use Kashmiri chili for the red colour)
2 Tsp Anardana Powder (dried pomegranate seed powder)
2 and half tbsp Dried Kasturi Methi leaves
2 tsp salt ( as per your liking)
1 tsp sugar
Directions:
In a kadhai or a wok, take oil once hot add the chopped ginger garlic stir-fry for a min and then add the onions
Cook the onions till lightly pink and add Haldi, Chili powder, Anardana powder and salt. Mix well and cook till the Masala comes together and turns nice reddish brown (the red color comes from the Kashmiri chili)
Remove seeds from the capsicum chop roughly and add it at this stage. We want the capsicum to retain its crunch, therefore adding it towards the end helps.
Add the paneer to the masala and with a spoon break part of the Paneer into small tiny pieces in the Kadhai it self (like egg burji or scrambled egg)
This way you have big chunks of Paneer as well as small pieces mixed well with the Masala
Add Kasturi methi and sugar, check for salt and cook covered for 5 mins on low flame.
Serve hot with Garam phulkas
Footnotes:
If you don't have Anardana powder you may also use Amchur powder
You can also use Ginger garlic paste, but I suggest use them finely chopped for a better flavor. That's what my aunt says :)