Cheera Cherupayar Curry (spinach Cooked With Green Gram)
This is a weird combination to me but it comes in handy when you have very little of the gram and spinach at hand. To make this curry tangier I add sorrel leaves also known as gongura leaves. This curry is ideal for rice as well as rotis.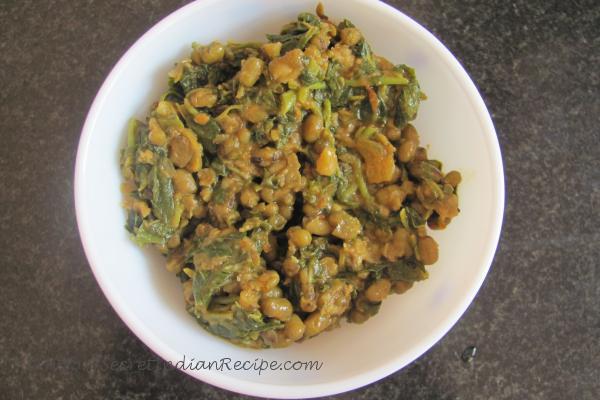 Ingredients:
Green gram- 1/2 cup
Spinach- 2 bunch
Sorrel leaves- 1 bunch
Shallots- 6
Garlic- 10 cloves
Curry leaves- 1 sprig
Turmeric powder- 1/2 tsp
Chili flakes- 2 tsp
Salt to taste
Mustard seeds- 1 tsp
Oil- 2 tbsp
Water- 2 cups + 4 tbsp
Directions:
Wash and pressure cook the green gram with 2 cups of water up to 2 whistles.
Wash and chop the spinach and sorrel leaves.
In another pan cook the sorrel leaves and spinach with 4 tbsp water and a pinch of salt. Drain of the excess water after the leaves are cooked.
In a pan heat 2 tbsp oil and add the mustard seeds. Saute the minced shallots and garlic along with curry leaves after the mustard splutters.
Add the turmeric powder and chili flakes and saute the spices for 2 minutes.
Now add the cooked green gram and leaves. Stir the curry and bring it to a boil.
Add salt and let the curry simmer till the water evaporates.
This is a semi dry curry so stop cooking when 3/4th of the water has evaporated. Serve with rice.