Cheera Cutlet (red Spinach Cutlets)
This is my favourite starter when I invite vegetarians over for dinner. This recipe is a mother's answer from god when it comes to making her kiddo eats his/her greens. Just that this green looks pink making it more appealing. This recipe should definitely make it to the top of every mom's list for lunch ideas for their kiddos.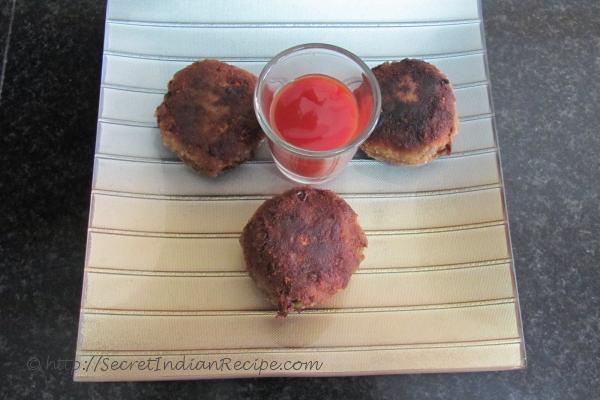 Ingredients:
Red spinach- 4 bunch
Potatoes- 2
Onions- 2
Curry leaves- 1 sprig
Ginger- 1/2 inch long piece
Garlic- 5 pods
Green chilies- 5
Turmeric powder- 1/2 tsp
Chili powder- 1/2 tsp
Lemon extract- 1 tbsp
Bread crumbs- 1 cup
Egg whites- 3
Oil - for frying
Salt to taste
Directions:
Chop the spinach leaves finely. Boil, peel and mash the potatoes.
In a pan heat some oil. Saute the onion, curry leaves, ginger, chilies and garlic till they brown.
Add chili and turmeric powder and saute for a minute or two. You can add a teaspoon of garam masala if you wish, I do at times.
Add the spinach and cook them till they wilt. Now add the salt and the mashed potatoes and mix well. Take the filling off the fire and add lemon extract.
Knead well. If the potatoes make the filling look loose or watery add a bit of bread crumbs for better consistency.
You can refrigerate this mix if you plan frying it the next day. You could shape them as patties before refrigerating.
If you intend to fry immediately, whisk the egg whites with a pinch of salt. In a plate add the bread crumbs.
Shape the cutlets as patties, dip in the egg whites and then in the bread crumbs. Deep fry till the cutlets turn brown.
You can refrigerate the cutlets even after coating them with breadcrumbs but thaw them before dropping them into the oil to avoid accidents.
Footnotes:
Another version of these cutlets would be not cooking the spinach and adding it raw to the cooked potatoes. But then you should fry the cutlets over a low flame so as to give the spinach some cooking time.