Cheese Masala Omelette
Everyone like omelette and its a must have for breakfast in some homes. We can prepare eggs in many ways like simple omelette, Fluffy Omelette, Masala Egg etc.
Today I am posting one more egg recipe which is Cheese Masala Omelette, its a tasty and because of cheese kids love it.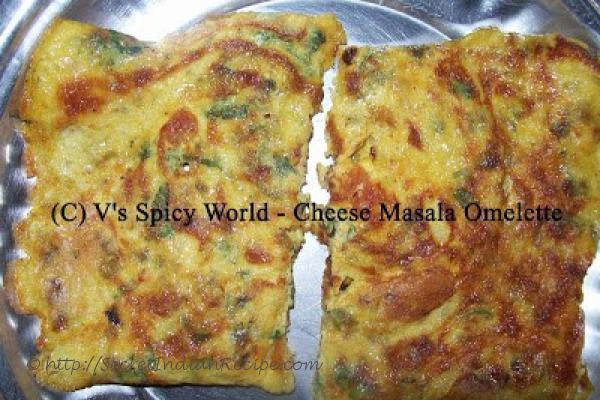 Ingredients:
2 Eggs
1 Medium Onion (finely chopped)
1 Small Tomato (finely chopped)
1 Medium Green Chilly (finely Chopped)
1 Tea Spoon Cumin Seeds
½ Tea Spoon Turmeric Powder
½ Tea Spoon Red Chilly Powder
½ cup grated cheese
2 Tea Spoon Oil
Salt as per taste
Fresh Green Coriander leaves (finely chopped)
Directions:
Heat 1 ½ tsp. oil in a nonstick pan/tawa.
Add cumin seeds.
When cumin spluttered add green chilly and stir.
Add onions and stir fry till golden brown.
5. Add Tomato and stir fry till they get tender.
Add red chilly powder, turmeric powder and salt.
Cook till oil separates from the masala.
Masala is ready, shift it in a bowl, add green coriander leaves and mix well.
Add both the eggs to this masala and mix well.
Heat remaining ½ tsp. oil in a nonstick tawa.
Add the eggs batter and spread it in round shape.
Cook for a minute on low flame, add grated cheese and cook for another 20 sec.
Fold the omelette as shown in picture.
Flip upside down and cook on low flame for few seconds.
The yummy Cheese masala omelette is ready, cut it into pieces, serve hot with tomato sauce, roti or enjoy as it is.
For more interesting recipes and articles please visit my blog www.vslittleworld.com