Cheesy Tomato Bruschetta
It is a starter/snack from Italy, made from baguette, cheese and tomato. It is very easy to make and now very popular in India too. #ChaiFingerFood Contest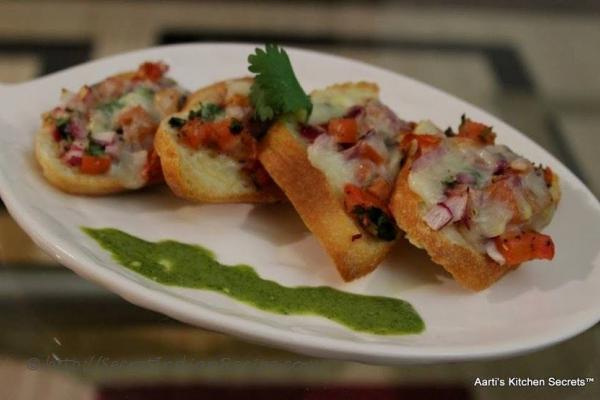 Ingredients:
Tomato – 1 Cup (chopped)
Onion – ¼ Cup (chopped)
Basil / Cilantro – 2 tbsp (chopped)
Dried Oregano – 1 tsp
Lemon Juice – 1 tbsp
Salt – to taste
Black Pepper Powder – to taste
Butter
Grated Mozzarella Cheese – ½ Cup
French Baguette – 1
Directions:
In a bowl add chopped tomatoes, onions, basil/cilantro, dried oregano, lemon juice, salt, black pepper powder. Mix well. Cover it with the plastic wrap and let it sit for an hour.
Cut baguette into ½ inch slices.
Spread butter on one side of the each bread slice and put it into the preheated 400 F oven on a baking sheet until the butter has melted.
Place some tomato & onion mixture on each bread slice. Add some grated mozzarella cheese over it.
Put the bread again in the oven until the cheese has melted. Serve hot.