Chemeen Thenga Kothu Ularthiyathu (prawn Roast With Coconut Strips)
Seafood is cooked in two main styles in Kerala. It is either done in coconut based gravy or with kodampulli and lots of chili. This recipe falls in the second category, but what makes it special is the use of this coconut strips. I have a deep cut in my left index finger attempting to do these strips so it is a tough procedure. Unlike coconut milk powder, grated coconut, coconut strips are seldom sold in markets. But without this ingredient, this curry would be incomplete. I prepared this curry in an earthen pot, which is a common practice in Kerala. I urge you to do the same.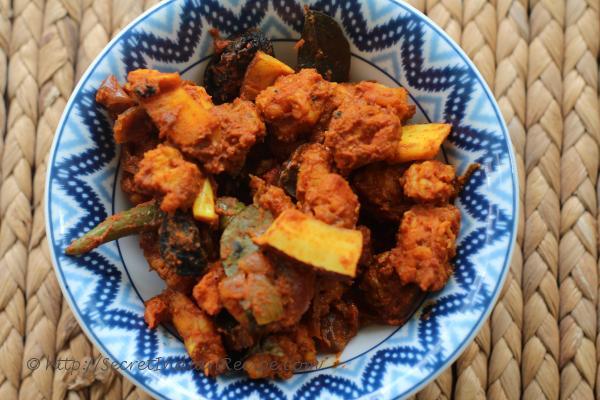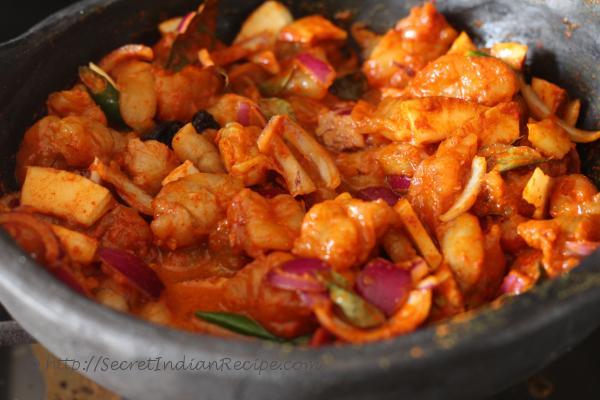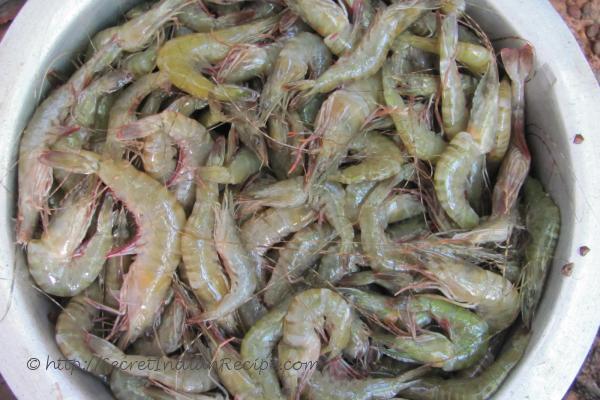 Ingredients:
Prawns- 500 g
Coconut strips- 1 cup
Kodampuli- 3 small pieces
Onions-2
Garlic- 10 cloves
Green Chilies-4
Ginger- 1 inch long piece
Turmeric powder- 1/2 tsp
Chili powder- 1 tsp
Kashmiri Chili powder- 1 tsp
Coconut oil- 1 tbsp
Salt- to taste
Curry leaves- 6-8 leaves
Water- 5 tbsp
Directions:
Devein the prawns and clean them well. Make thin coconut strips. To do this break the coconut into small pieces.
Try separating the shell from the flesh from each small piece of broken coconut, this is where your knife might slip so be careful.
Make thin slices. Soak the kodampuli in 5 tbsp water and salt for 15 minutes and start the cooking only after this.
Now in an earthen pot add all the ingredients and mix them thoroughly with hands. Switch on the stove and keep the earthen pot to cook.
This method has no sauteing and so the oil is added with other ingredients as you mix the prawns and spices.
Once the prawns come to boil, lower the flame and let the prawn cook under low flame.
Once the prawn has cooked, increase the flame to reduce the water content to get a semi- dry dish.
Once the curry becomes of semi- dry consistency, switch off the flame and serve with rice.
Footnotes:
This curry tastes best after a day, the flavours of kodampuli makes it tangier the next day.
Use normal tamarind if you cannot get hold of kodampuli.
Other Indian Recipes that you may Like !