Chemeen Uzhalakizhangu Curry (prawn Curry With Potatoes)
A very traditional coastal style preparation with prawns. This was taught to me by my maid who looked after me and my siblings in our childhood. She hailed from Cochin and came from a fisher folk background.Their style of cooking used a lot of chilies and vinegar- two flavours that goes well with seafood. Adding potatoes she told me was optional often opted for when they had very little prawns and too many mouths to feed. I loved the potatoes flavoured by prawns so I continue to do this but my prime reason is again the high price of prawns in Bangalore that makes me want to add potatoes to stretch this curry for more than a meal.You can use drumsticks or raw banana instead of potatoes.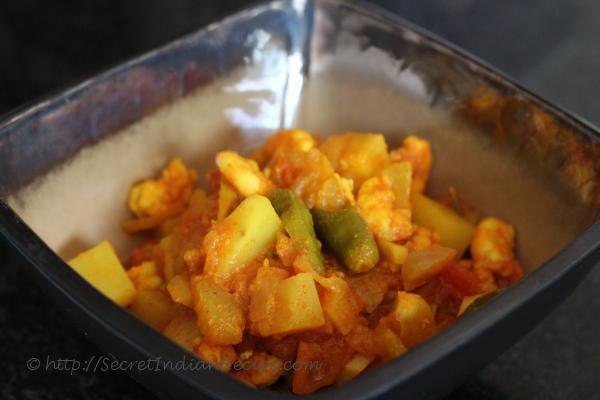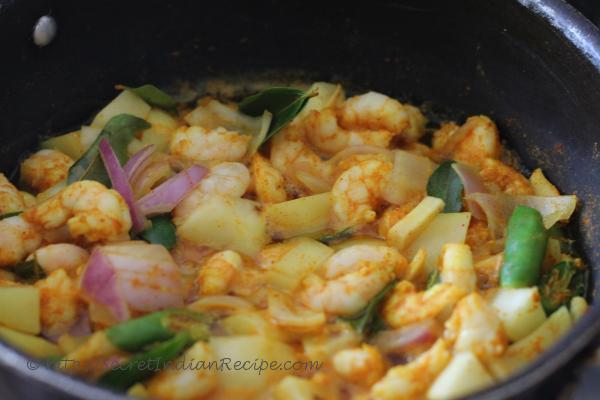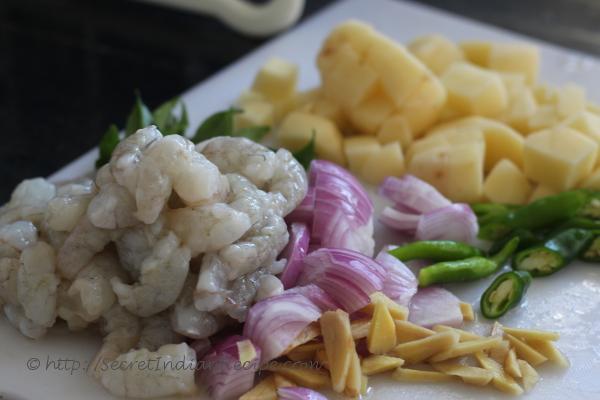 Ingredients:
Prawns- 500 g
Potatoes- 3
Tomatoes- 5
Onion-1
Ginger- 1 inch long piece
Onion- 1
Turmeric Powder- 1/2 tsp
Chili powder- 1 tsp
Salt- to taste
Vinegar- 1 tbsp
Green chilies- 6
Curry leaves- 2 sprig
Coconut oil- 3 tbsp
Directions:
Clean the prawns by removing the shell completely and de-veining them.
Peel and cube the potatoes. Chop the onion, ginger and green chilies.
Boil all the ingredients except tomatoes and vinegar in a pan with 1/2 cup of water. When the potatoes are half cooked, take the curry off the flame and prepare the gravy.
Now heat oil in a pan and add the chopped tomatoes. Add a pinch of salt and cook the tomatoes till they mash completely.
Now add the cooked prawns and potatoes and stir till they are well coated in the tomato base. Add vinegar and let the curry simmer.
Add more chili powder if you want it spicy or add more green chilies in the beginning.
Once the gravy thickens which might take 5-10 minutes because we poured in the stock of the prawn and potatoes to this sauce and they require time to absorb flavours, switch off the flame.
Serve with rice or rotis.
Other Indian Recipes that you may Like !